Posted 26th Sep 2018
First-game frustration as Team Bath are edged out by Northumbria in front of big BUCS Super Rugby crowd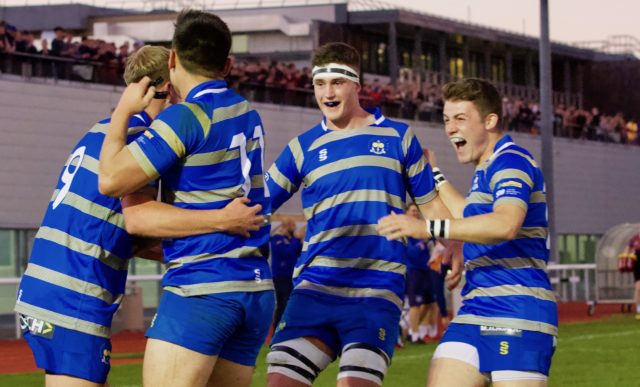 It was a frustrating start to the 2018-19 BUCS Super Rugby season for the Team Bath men's 1st XV as they were edged out 29-23 in front of a 500-strong home crowd at the University of Bath Sports Training Village.
The Blue & Gold, who are supported by short sponsors MJ Church, showed plenty of positive intent throughout and were deservedly leading 17-7 with a minute to go before half-time thanks to well-taken tries from Hugo Stiles, who also kicked two conversions and a penalty, and Brandon Bellamin.
However, the last play before the break saw winger Josh Rudling go over for a try, Northumbria's second of the half following Lewis Berg's earlier touchdown, and James Elliot's penalty cut Team Bath's lead to three points.
Stiles and Eliot exchanged penalties early in the second half before Northumbria – last season's league runners-up – took the lead for the first time when prop George Williams burrowed over for a converted try.
The decisive moment came ten minutes from time when, as he and Ed Rimmer chased down a loose ball bouncing through the Bath try area, Elliot was adjudged by the assistant referee to have got a downward touch before it ran out of play, much to the frustration of the home team.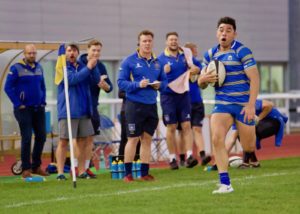 That gave Northumbria a nine-point lead and while a Stiles penalty got Team Bath back to within a converted try of victory, the visitors – despite being down to 14 men after number 8 George Bordill was yellow carded – were able to see off some late pressure and take the points.
Team Bath coach Mark Lilley said: "There were plenty of encouraging signs out there but we've missed a lot of opportunities, particularly in the first half.
"We built pressure on them but there were a couple of moments that let us down and we probably weren't effective enough on our attacking breakdown.
"We had 14 debutants tonight and, despite the result, the boys will take a lot from that game. I thought we showed some really positive character and there is plenty to build on."
Alex Burrage, captain for the night, added: "To feel so disappointed to have lost to the team that was second in the league last year shows how far we have come as a side.
"We've left a lot of opportunities out there that if we fix, we are definitely winning that game."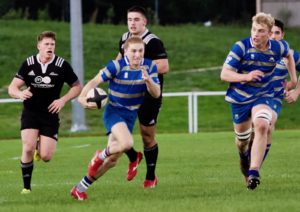 Bath Rugby players Zach Mercer and Levi Davis, the latter a University of Bath graduate who developed his talent in BUCS Super Rugby, were among a big Freshers' Week crowd for the opening fixture.
They saw Team Bath dominate the early exchanges and, after forgoing a couple of early chances to kick at goal from penalties, the hosts took the lead when good hands from Burrage set up full-back Stiles to charge over the line and finish with a flourish before adding the extras.
Both Stiles and Northumbria kicker Elliot missed penalties before the visitors levelled after catching Team Bath cold from a tap penalty. Centre Berg went over in the corner before Elliot added a fine conversion.
Stiles restored Team Bath's lead via a penalty before, from the restart, producing a wonderful burst through the Northumbria defence and brilliantly offloading to winger Bellamin, who raced from the halfway line to touch down for a converted try.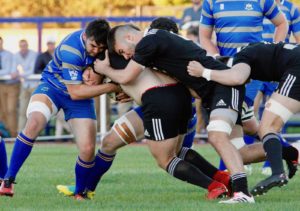 With just seconds left in the half, Team Bath looked like they had stopped a Northumbria attack when Alex Nisbett ran back to superbly tackle Bordill just short of the line and Burrage intercepted the offload. However, the visitors were able to snaffle the ball away and Rudling went over for a try that Elliot converted.
That cut Team Bath's lead to three points and they were unable to hold on to that advantage during a frustrating second half.
Next up for Team Bath is a trip to London to face Durham University at Rosslyn Park RFC on Friday, October 5 (7.30pm). Details of tickets for the match, which is a great opportunity for London-based alumni to meet up, are available at rugby.teambath.com/fixtures-and-results.
Team Bath's next home game is against Nottingham Trent on Wednesday, October 10 (6.30pm, free entry), before they return to The Rec – Bath Rugby's iconic city-centre home – for the Iesis Group-sponsored Anniversary Game on Wednesday, October 17 (6.30pm). Free tickets for that game can be downloaded at rugby.teambath.com/anniversary-game-tickets.
Match stats
Team Bath starting XV: 15 Hugo Stiles, 14 Finn Murphy, 13 Alex Nisbett, 12 Miles Gilbert, 11 Brandon Bellamin, 10 Alex Burrage (c), 9 Ed Rimmer; 1 Tom Rowland, 2 James Hadfield, 3 Austin Hay, 4 Angus Hinton, 5 Adam Thresher, 6 Jack Kenningham, 7 Chris Barry, 8 Jordan Martin. Replacements: 16 Luke Trewhella, 17 George Cave, 18 Simone Ngeng, 19 George Maylam, 20 Josh Lilly, 21 Calum Barrett, 22 Benn Morris, 23 Will Kelley.
Tries: Stiles, Bellamin.
Conversions: Stiles 2.
Penalties: Stiles 2.
Northumbria starting XV: 15 Ruairi Howarth, 14 Josh Rudling, 13 George Wacokecoke, 12 Lewis Berg, 11 Oliver Smith, 10 Tom Galbraith, 9 James Elliot; 1 George Williams, 2 Mike Newstead, 3 Jamie Rose, 4 Edward Bloodworth, 5 Toby Hodges, 6 Michael Walton, 7 Yaree Fantini, 8 George Bordill. Replacements: 16 Joe Lashley, 17 John Warburton, 18 Jasper McGuire, 19 Mike Hoyt, 20 Ethan Murray, 21 Joseph Pickering, 22 Lucas Titherington, 23 Charlie Parkhouse.
Tries: Berg, Rudling, Williams, Elliot.
Conversions: Elliot 3.
Penalties: Elliot.
Referee: Ben Wilde.
Assistant referees: Brad Bignell, Neil Sweeney.
4th official: Ed Eades.
Attendance: 504.