Posted 1st Nov 2018
Six-try Team Bath complete league double over Nottingham Trent to go top of BUCS Super Rugby table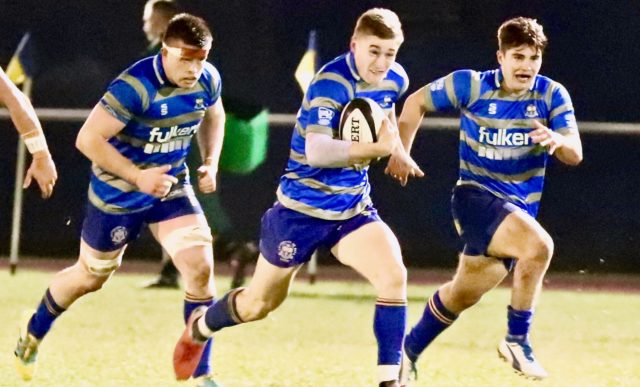 A dominant Team Bath men's 1st XV claimed another bonus-point victory, this time at Nottingham Trent, to go top of the BUCS Super Rugby table.
The Blue & Gold, sponsored by Fulkers and MJ Church, started and finished the game slowly but were impressive in between as they ran in six tries to secure an excellent 37-19 victory – their fourth successive league win and a second over Nottingham this season.
After recording a first BUCS Super Rugby victory over Exeter University in the South West derby, Team Bath travelled to the East Midlands with confidence high as they sought a first away win of the 2018-19 campaign.
They conceded an early try which was converted by Max Craven but, after a long period of sustained pressure, managed to get on the scoreboard around the half-hour mark through a penalty from Santander Sporting Scholar Hugo Stiles.
The visitors were playing some really attractive rugby and their energetic pack, coupled with some good tactical kicking, provided the freedom and space that allowed the backs to really press on the NTU defence.
This dominance was rewarded with two tries from Brandon Bellamin and Kas Eelman, both of which were converted by Stiles, to give Team Bath a 17-7 lead going into half-time.
The real breakthrough for Team Bath came early in the second half as they touched twice in quick succession through Bath Rugby Academy player Will Partington and Chris Barry, putting real daylight between the two teams.
Nottingham Trent struggled to get any form of foothold, which was credit to the visitors' outstanding defence both at the breakdown and in open play, and the game was taken out of their reach as England U20 hooker Beck Cutting and Harlequins Academy player Jack Kenningham finished off some great phase play to extend the lead to 37-7.
The hosts continued to press right up until the dying embers of the match and lapse in concentration allowed them to go over for two well-worked consolation tries but it wasn't enough to take the shine off a superb team performance from Team Bath, who are now a point clear of Hartpury at the top of the table.
Head of Rugby Aaron James said: "I thought we were smart in the way we defended the breakdown and I think we conceded the least number of penalties all season, which was a key message before today's game.
"We reacted and adapted really well after what was a slow start for us. It was disappointing to concede a couple of tries late on again but overall it was a really good team effort which we can take a lot of positives from."
Team Bath now have a two-week break before returning to action with a home double header at the University of Bath Sports Training Village, against Cardiff Met on Wednesday, November 14 and Durham on Wednesday, November 21.
Both matches kick off at 6.30pm and entry for spectators, as with all home matches, is free.
Match stats
Nottingham Trent starting XV: 15 Caetano Branco, 14 Pau Gimeno, 13 David Wiliams, 12 Alex Goble, 11 Edan Kelly, 10 Max Craven, 9 Alex Crocker; 1 Jamie Jack, 2 Jake Farnworth (c), 3 Cecil MacCarthy, 4 Ben Davis-Moore, 5 Jacob Turner, 6 Ethan Hughes, 7 Jacob Wrafter, 8 Scott Hall. Replacements: 16 JJ Broberg, 17 Ben Smith, 18 Dan Lamb, 19 Harrison Savage, 20 Seb Cecil, 21 Jamie Murray, 22 Luke Bouchier, 23 Billy Walker.
Tries: Unknown, Branco.
Conversions: Craven 2.
Team Bath starting XV: 15 Will Partington, 14 Brandon Bellamin, 13 Will Hughes, 12 Alex Nisbett, 11 Hugo Stiles, 10 Alex Burrage, 9 Ed Rimmer; 1 George Cave, 2 Tom Doughty, 3 Kieran Verden, 4 Kas Eelman, 5 Jordan Martin, 6 Josh Lilly, 7 Chris Barry, 8 Jack Kenningham. Replacements: 16 Beck Cutting, 17 Tom Rowland, 18 Austin Hay, 19 Tom Ireland-Life, 20 James Hadfield, 21 George Wootton, 22 Miles Gilbert, 23 Finn Murphy.
Tries: Bellamin, Eelman, Partington, Barry, Cutting, Kenningham.
Conversions: Stiles 2.
Penalties: Stiles.