Posted 21st Nov 2018
Mistakes and penalties prove costly as Durham complete BUCS Super Rugby double over Team Bath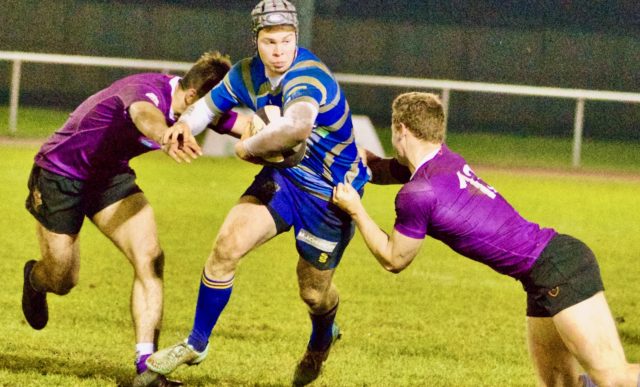 Errors proved costly for Team Bath men's 1st XV as they slipped to a disappointing 27-13 BUCS Super Rugby home defeat to Durham on Wednesday.
The Fulkers-sponsored Blue & Gold, who are also backed by MJ Church, were unable to capitalise on some good positions in a first half that saw them concede a late try to go into the break 13-6 adrift.
Mistakes at the start of the second half then allowed visiting flanker Henry Paremain to crash over twice and take the game away from Team Bath.
They tried to respond and crossed the line three times but only one of the tries stood, through hooker James Hadfield, as Durham completed the league double over Team Bath on a bitterly-cold evening at the University of Bath Sports Training Village.
Head of Rugby Aaron James said: "We're very disappointed. We had lots of opportunities to score tries, especially in the first half, but couldn't take them. We've talked about our discipline but we lost the penalty count again tonight. If you do that against sides like Durham you don't win.
"The positives were we were able to give some players a debut. You have to have depth in this competition and it was good to see them experience Super Rugby."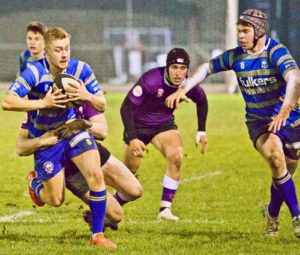 Full-back Will Stride and fresher Paul Altier were handed their first starts in the competition, the latter one of three Hong Kong internationals starting at 10-11-12 for Team Bath alongside captain for the night Hugo Stiles and Alex Nisbett.
A first half that began in driving rain and continued in an icy cold wind saw the teams trade two penalties apiece, though Stiles and Myles Rawstron Rudd respectively.
Team Bath got into some good try-scoring positions but were unable to capitalise and instead it was Durham who got the only try of the first half just before the break. The hosts initially repelled a lineout catch-and-drive but they were unable to prevent Charlie Wilson barging over and Rudd added the extras to put the visitors 13-6 up.
The gap got bigger immediately from the restart as Team Bath fumbled the kick-off and, from the resulting scrum, Paremain was able to crash over for Durham's second try.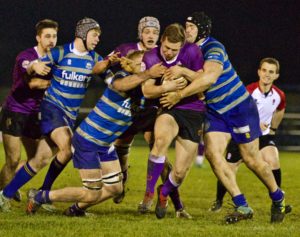 Team Bath thought they had replied when, following a flowing move, Finn Murphy went over in the corner but he was adjudged to have put a foot into touch and the try was ruled out.
Instead they fell further behind in the 52nd minute when another unforced error saw Team Bath invite pressure on themselves and Paremain once again proved too strong to stop as he grabbed his second of the game. Rudd kicked the conversion to make it 27-6.
Team Bath were handed a glimmer of hope on the hour when, with Durham's Jacob Collin in the sin bin after illegally halting an attack on the line, replacement hooker James Hadfield was able to burrow over from close range.
Stiles' conversion cut the gap to 27-13 and Team Bath thought they were right back in the contest when Altier dived over for what looked to be a debut try, only for the celebrations to be cut short when it was belatedly adjudged to be a forward pass.
Team Bath make the short journey to Gloucestershire next week (November 28) to face Hartpury, who are also the next visitors to the University of Bath Sports Training Village on Wednesday, December 12. Kick-off for that match is 6.30pm and admission is free.
Match stats
Team Bath starting XV: 15 Will Stride, 14 Finn Murphy, 13 Will Hughes, 12 Alex Nisbett, 11 Paul Altier, 10 Hugo Stiles (c), 9 Ed Rimmer; 1 George Cave, 2 Beck Cutting, 3 Kieran Verden, 4 Kas Eelman, 5 Jordan Martin, 6 Jack Kenningham, 7 Chris Barry, 8 James Catlin. Replacements: 16 James Hadfield, 17 Austin Hay, 18 Simone Ngeng, 19 Cameron Keys, 20 Josh Lilly, 21 George Wootten, 22 Miles Gilbert, 23 Ethan Hutt.
Tries: Hadfield.
Conversions: Stiles.
Penalties: Stiles 2.
Durham starting XV: 15 Saul Melvin Farr, 14 Jack Hedley, 13 Matt Welsh, 12 Charlie Wilson, 11 Myles Rawstron Rudd, 10 Paddy McDuell, 9 Jacob Collin; 1 Jack Conteh, 2 Oscar Boe, 3 Sam Hughes, 4 Colin Markham (c), 5 Henry Paremain, 6 Josh Basham, 7 Fitz Harding, 8 Ben Fowles. Replacements: 16 Freddie Davies, 17 Scott Bowerman, 18 Toby Woods, 19 Marijn Huis, 20 Chris Johnston, 21 Alex Skinner, 22 Charlie Spawforth, 23 Tom Lewis.
Tries: Wilson, Paremain 2.
Conversions: Rudd 3.
Penalties: Rudd 2.
Referee: Ieuan Davies.
Assistant referees: Oli Carey, Mark Doran.
Fourth official: Brad Bignell.
Attendance: 250.