Posted 29th Nov 2018
"Tremendous character" rewarded as Team Bath record first away victory over Hartpury in BUCS Super Rugby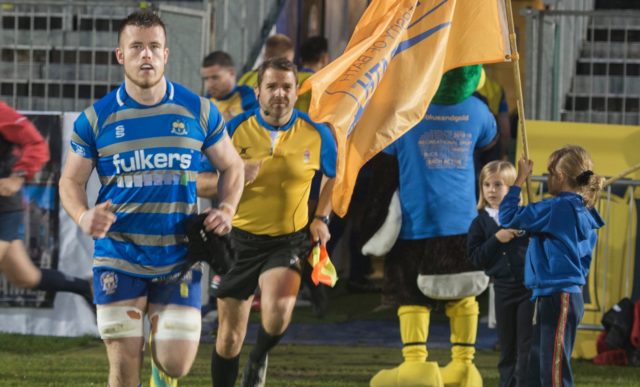 Team Bath men's 1st XV got back to winning ways in BUCS Super Rugby in superb style on Wednesday as they recorded their first-ever away victory over West Country rivals Hartpury.
Chris Barry's second-half try and Hugo Stiles' conversion proved to be the difference as the Fulkers-sponsored Blue & Gold claimed a hard-fought 13-11 victory.
Hartpury had chance to snatch a draw after scoring a try in the dying seconds but, from the last kick of the game, the conversion attempt from a difficult angle drifted wide.
Aaron James, Head of Rugby at the University of Bath, said: "It was a great win and I am really pleased for all of the players and staff, the boys showed tremendous character.
"Although it was a tight scoreline, it was actually a flowing game despite the wet and windy conditions. Both teams created opportunities and in the end it came down to a battle of the defences."
The teams traded two penalties apiece, Stiles kicking both for Team Bath, in a first half that finished level at 6-6.
The second period was equally tight-fought but the visitors produced what proved to be the decisive moment when flanker Barry (pictured) crashed over under the posts and Stiles added the extras.
Team Bath remain fourth in the table but have closed to within three points of second-placed Hartpury, who they face again at the University of Bath Sports Training Village on Wednesday, December 12 (6.30pm, free entry).
Before then Team Bath, who are also supported by MJ Church, are back on the road as they visit Loughborough on Wednesday, December 5 (7pm).