Posted 7th Feb 2019
Terrific team performance sees Team Bath get back to winning ways with first BUCS Super Rugby victory at Cardiff Met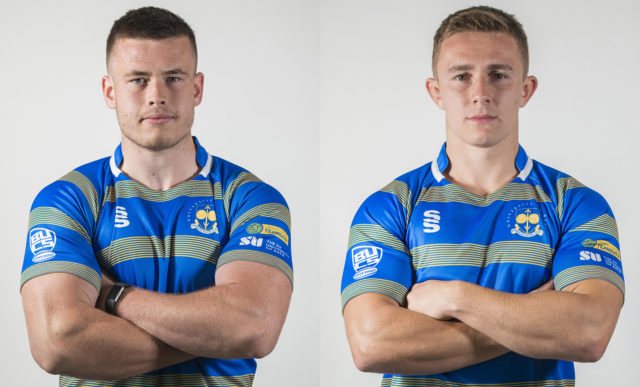 A dominant Team Bath men's 1st XV claimed another landmark win on the road as they defeated high-fliers Cardiff Met away for the first time in BUCS Super Rugby on Wednesday.
The Blue & Gold, sponsored by Fulkers and MJ Church, bounced back from last week's disappointing Cardiff University defeat in fantastic style as they recorded a 23-7 victory over their Varsity rivals.
Team Bath were first to get on the scoreboard, at the 20-minute mark, through Chris Barry who powered his way over the line after an attacking driving line-out was stopped just short. Bath Rugby Academy player Will Partington successfully added the extras to make it 7-0.
Cardiff Met responded immediately and seemed to be gaining a foothold in the game but a ferocious Team Bath defensive effort kept the home team at bay on a few occasions. A few missed opportunities and a failed penalty attempt from Cardiff Met created a real momentum swing in the game, resulting in Team Bath extending their lead to 10-0 on the stroke of half-time through a Will Partington penalty.
Partington continued his fantastic kicking display when he nailed a 40m penalty kick just a few minutes into the second half to extend the Team Bath lead. Shortly after, Cardiff Met replacement flanker Harvey Scott received a yellow card for repeated offences but Team Bath failed to capitalise despite dominating both possession and territory.
Towards the end of the sin bin, Cardiff Met improbably got themselves back in the game through outside centre Luke Northmore, who scored off the back of a well-worked set-piece move to close the gap to 13-7.
As the game looked to be in the balance once more, Partington made an outstanding break straight through the middle of the helpless Cardiff Met defence who scrambled back to tackle him just short of the line before replacement scrum half, George Wootten, darted over a few phases later. Partington converted once more to increase the visitors lead to 20-7.
Team Bath continued to dominate up front in the set piece and, with just ten minutes to go, their pack were rewarded with a penalty which Partington successfully converted to complete a 100 per cent kicking success rate for the evening and to extend the visitors' lead to 23-7.
Despite a last-ditch effort from the home team, Team Bath's heroic defensive efforts and overall game management ensured they came away as deserved winners.
Head of Rugby Aaron James said: "After losing to a very good Cardiff team last week, the boys were desperate to put in a good performance this week and that's exactly what they did. Credit must go to the reaction of the players who showed a lot of resilience and self-drive this week in training.
"Cardiff Met isn't an easy place to go so I'm really proud of how the boys fronted up, especially defensively and in the set piece."
Captain Tom Doughty added: "It was a great effort from the boys, particularly the forwards who dominated upfront and mauled Met back over 30 yards on a few occasions. The backs also played some wonderful running rugby and managed to keep the ball alive in tough conditions.
"I think everyone is excited for next week as we look to right the wrongs from our first fixture against Cardiff Uni."
Team Bath host Cardiff University at the Sports Training Village next Wednesday (13 February) as they seek revenge on their opponents who narrowly beat them two weeks ago. Kick-off for that match is 6.30pm and admission is free.
Match stats
Team Bath starting XV: 15 Will Partington, 14 Ethan Hutt, 13 Alex Nisbett, 12 Will Butt, 11 Brandon Bellamin, 10 Hugo Stiles, 9 Ed Rimmer; 1 Arthur Cordwell, 2 Tom Doughty (c), 3 Austin Hay, 4 Angus Hinton, 5 Adam Thresher, 6 Jack Davies, 7 Chris Barry, 8 Jack Kenningham. Replacements: 16 Beck Cutting, 17 Jake Buckingham, 18 Simone Ngeng, 19 Cameron Keys, 20 James Hadfield, 21 George Wootten, 22 Will Hughes, 23 Finn Murphy.
Tries: Chris Barry, George Wootten.
Conversions: Will Partington (2).
Penalties: Will Partington (3).
Hartpury starting XV: 15 Tom Benjamin, 14 Brad Denty, 13 Luke Northmore, 12 Barrie Karea, 11 Zac Clow, 10 Russell Bennett, 9 Laurie Essenhigh; 1 Dan Kennett, 2 Corey Lewis, 3 Harry Seward, 4 Jac Arthur, 5 Edoardo Balocco, 6 Tom Pearson, 7 Will Gibson, 8 Alex Ward (c). Replacements: 16 Shawn Howard, 17 Isaac Thompson, 18 Oliver Andrews, 19 Dan Thurston, 20 Harvey Scott, 21 Dawis Rubasniak, 22 Ellis Bevan, 23 James Mattin.
Tries: Luke Northmore.
Conversion: Russell Bennett.