Posted 6th Mar 2019
Fifth successive win secures best BUCS Super Rugby league finish for Team Bath and a home quarter-final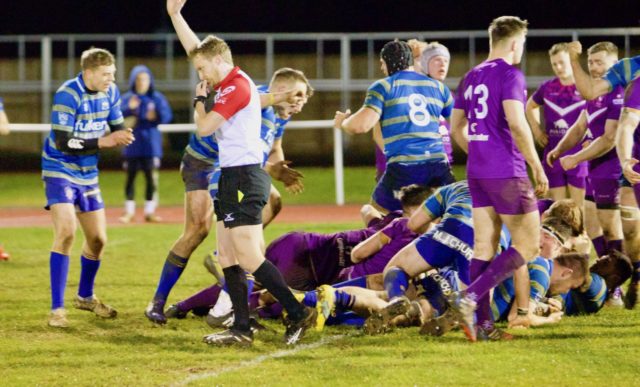 Team Bath men's 1st XV stretched their winning run to five games as they secured their best-ever BUCS Super Rugby league finish with a hard-fought victory over Loughborough at a wet and windy University of Bath Sports Training Village tonight.
All of the points came in the first half as the Blue & Gold, who were watched by representatives of sponsors Fulkers and MJ Church, came from behind to win 19-5 thanks to tries from James Catlin, Chris Barry and Will Partington.
Alex Burrage added two fine conversions and while the bonus-point fourth try proved elusive during a scrappy second period, Team Bath were good value for their 12th win from 18 league games.
They currently sit second in the table behind Exeter, who beat Cardiff this afternoon to win the league title, and while their final placing will not be determined until Hartpury play their outstanding fixture next week, Team Bath are guaranteed a top-three finish and a home quarter-final in the BUCS Rugby Championships knockout competition.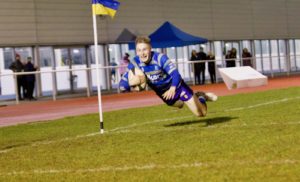 Team Bath 1st XV coach Mark Lilley said: "There were tough conditions out there but I thought our intent to play was outstanding and we showed some really good attacking moments, so I was quite pleased with the performance all things considered.
"We had opportunities in the second half to get the bonus point and there were inaccuracies in our play that we will work on. We have been really pleased with how we have developed and moved our game on over the season and we still feel we have a lot more in the tank."
Captain Burrage added: "I think it shows how far we have come as a side that we are disappointed just to get a win and not get the bonus point. Durham are the only team we haven't beaten this season, so it is massively exciting going into the knockout stages to see what we can do."

Team Bath went into tonight's game on the back of an excellent run of results but the wet and windy conditions allied with a sterling effort from visitors Loughborough meant they were unable to produce the expansive game that has served them so well in recent weeks.
The opening 20 minutes were evenly matched but it was Loughborough who broke the deadlock. A long clearance from their 22 looked to have gone dead at the other end but a Bath player was adjudged to have got a touch on the way, meaning the hosts found themselves defending a scrum 10m from their line.
They were unable to prevent centre James Spencer finding his way through for the opening try but Tom Ffitch hit the post with his conversion attempt.
Team Bath levelled within five minutes as a break by Barry put Loughborough on the back foot and the ball was switched from right to left before number eight Catlin barged his way over. Burrage was off target with his conversion attempt.
The game swung firmly in the home side's favour just before the break when Loughborough lost two loosehead props to the sin bin in the space of a minute. First Jerrod Leat saw yellow for repeated infringement, then replacement Jamie Harding was harshly sent to the bench for collapsing the scrum.
Team Bath took full advantage, with Barry being driven over for their second try before, from the restart, full-back Partington found a gap in the depleted Loughborough defence and accelerated past the last man before diving over in the corner for a fine solo effort.
Burrage converted both tries, using the wind to curl his second kick in from the touchline, to put Team Bath in control at half-time.
The second period proved to be an attritional battle, with both teams working their way into promising positions without being able to produce a finish as two organised defences stood firm.
Attention now turns to the knockout stage of the season, with the final taking place at Twickenham in April. Team Bath, who have reached the semi-finals in the past two seasons, have a bye through to the last eight and will be at home on Wednesday, March 20 against opponents yet to be determined – kick-off will be 6.30pm and admission is free.
Match stats
Team Bath starting XV: 15 Will Partington, 14 Ethan Hutt, 13 Alex Nisbett, 12 Will Butt, 11 Brandon Bellamin, 10 Alex Burrage, 9 Ed Rimmer; 1 Arthur Cordwell, 2 James Hadfield, 3 Austin Hay, 4 Angus Hinton. 5 Rhys Davies, 6 Jack Kenningham, 7 Chris Barry, 8 James Catlin. Replacements: 16 Sam Ngeng, 17 Jake Buckingham, 18 Kieran Verden, 19 Adam Thresher, 20 Cameron Keys, 21 James Richardson, 22 Will Hughes, 23 Jake Sugg.
Tries: Catlin, Barry, Partington.
Conversions: Burrage 2.
Loughborough starting XV: 15 Will Attfield, 14 Austin Beckett, 13 James Spencer, 12 Josh Lewis, 11 Aaron Tait, 10 Tom Ffitch, 9 Will Lane; 1 Jerrod Leat, 2 Jamie Cox, 3 James Gallagher, 4 Adrian van der Ploeg, 5 Archie Macpherson, 6 Max Hill, 7 Andrew Bywater, 8 Austin Wallis. Replacements: 16 Sam Garvey, 17 Jamie Harding, 18 Osman Dimen, 19 Sam Bailey, 20 Owen Lloyd, 21 Sam Smith Ripper, 22 Will Findlay, 23 Sam Roberts.
Try: Spencer.
Referee: Ben Wilde.
Assistant referee: Oli Carey, Stephen Ward.
Fourth official: Brad Bignall.
Attendance: 350.