Posted 23rd Sep 2019
VIDEO: Top four is the target as Team Bath return to BUCS Super Rugby action with opening-day derby at Exeter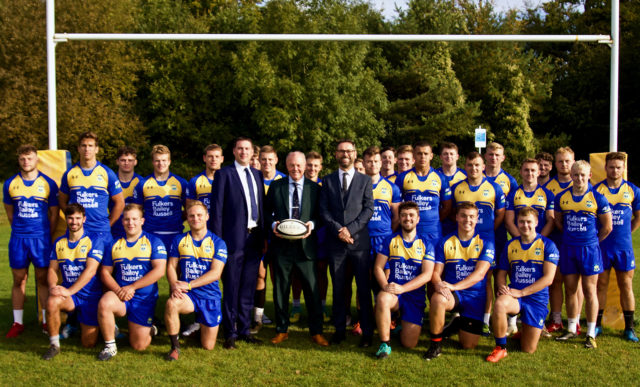 A new-look Team Bath men's 1st XV are targeting another top-four finish as they prepare to kick-off the 2019-20 BUCS Super Rugby season.
The Blue & Gold, who are sponsored by Bristol-based construction firm Fulkers Bailey Russell, start their fourth national league campaign with a South West derby at Exeter University on Wednesday (2pm).
Exeter topped the final table last season but were beaten home and away by Team Bath, whose third-placed finish overall was their best yet in the league competition.
A host of talented freshers have come into the squad over the summer, along with more experienced student-athletes returning from placement years, and Head of Rugby Aaron James believes his squad can once again challenge at the top end of the table.
"The target is to get into the top four and that is what we will be pushing for again," he said. "It's a new season and there is always a transition of players in university rugby, both here and across all the teams we will play, but I think it's a realistic and achievable target, and it's something to go for.
"We can't wait to get started, it's been a long pre-season and the guys just want to play. The guys have been working hard and we have got a lot of how we want to play into the boys, across the 1sts and 2nds.
"It's been great culturally, we've all got on really well together, but now it's business time and we want to get into it.
"Exeter is a great challenge to start with. All the games are tough, we always say there are no easy teams in BUCS Super Rugby, but hopefully we can replicate what we did there last year."
Team Bath have a run of three away games to start the season – against Exeter, Durham at Rosslyn Park FC in London (click here for ticket information) and newcomers Swansea – before finally running out in front of their home fans.
And they are hoping the spectators will number in their thousands as the first 'home' match of 2019-20 is the Anniversary Game, the annual celebration of student rugby played at The Rec, Bath Rugby's iconic city-centre ground.
Entry is free to the Rengen Developments-sponsored match against Cardiff University – being played at 6.30pm on Wednesday, October 16 – and people can register for their free ticket now. Click here to find out more.