Posted 8th Oct 2019
Team Bath forge exciting partnership with Rengen to support health and sports activities at University of Bath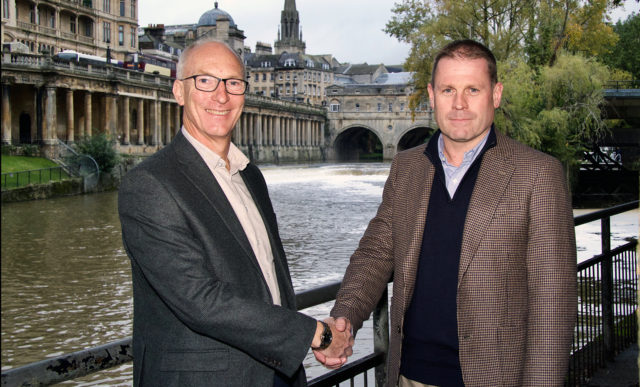 Team Bath and Rengen, whose CEO Iestyn Lewis is a University of Bath alumnus, have teamed up today to announce an exciting partnership designed to support health and sports activities at the University.
This exciting new arrangement under the Rengen brand comes in addition to the support already given to the University's annual rugby Anniversary Game and the recent endowment of a sports scholarship by Lewis, a former University rugby coach.
Funds from this corporate partnership will be used to support Team Bath Netball's performances in the 2020 Vitality Netball Superleague and the University's rugby team in the BUCS Super Rugby league. The University is also working with Lewis, who previously played for Bath Rugby, and his team to look at applying the new backing on offer across its dynamic portfolio of activities in support of recreational and performance sport.

Director of Sport Stephen Baddeley (pictured above with Iestyn) said: "We are energised by this new partnership as we open a fresh, academic sporting year. It is fantastic to link up with a successful local company that is so active within the City and the region.
"Iestyn, as CEO of Rengen, understands our DNA and what is needed to help young people stay healthy and thrive in their sporting careers as well as balancing their work, studies and sport, and we are grateful for Rengen's support."
Lewis added: "The depth and calibre of activities at Team Bath is breathtaking. They are facilitating a fantastic environment for everything from Olympic athletes and Bath Rugby Academy players right through to children taking their first steps in sport and the general public who want to get or stay fit.
"We, as a company, are excited to support not only such a well-known sports body but also all those students who are studying at a world-class institution whilst striving to be the best they can be in their chosen sport."