Posted 30th Oct 2019
Last-minute try earns battling Team Bath a bonus-point consolation from BUCS Super Rugby defeat at Leeds Beckett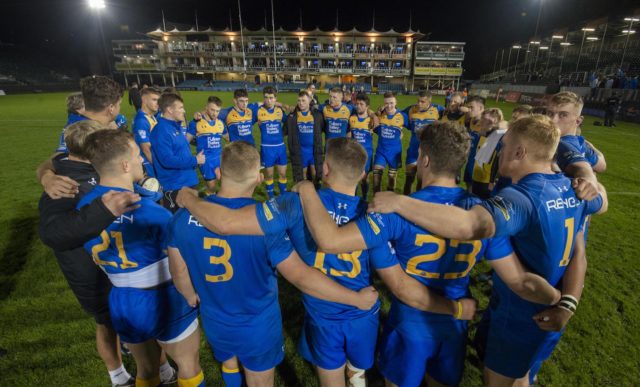 Their wait for an away win continues but a last-minute try ensured Team Bath men's 1st XV at least came away from today's BUCS Super Rugby match at Leeds Beckett with a bonus point.
The much-changed visitors, missing a number of players through injury, were always chasing the game after conceding two early tries and, despite a battling performance, were never quite able to get back into contention.
They did keep it in the balance until the closing ten minutes when three more Leeds Beckett tries eventually killed the game off but Team Bath had the last word, their fourth try of the afternoon in the dying seconds making the final score 52-26.
The Blue & Gold – sponsored by Fulkers Bailey Russell – conceded two converted tries in the opening 12 minutes but halved the deficit to 14-7 midway through the first half.
Leeds Beckett restored their 14-point advantage with another converted effort in the 29th minute before Team Bath cut the gap to 21-12 with a try on the stroke of half-time.
The home side wasted no time in applying pressure after the break and were quickly rewarded with a bonus-point fourth try, although the conversion was missed.
Again Bath responded brilliantly, scoring a converted try to close to within seven points, only for Leeds Beckett to hit back in kind once again on the hour.
The visitors kept plugging away but their hopes of getting back into the contest were finally ended when Leeds Beckett scored their sixth try in the 70th minute, the conversion putting them 40-19 clear.
Leeds ran in two more tries after that, number eight Nick Brown completing his hat-trick, but Team Bath were determined to come away with a bonus point and got their reward from the last move of the game, the converted try making the final score 52-26.
Team Bath, who are also supported by Rengen Developments, now have a free week to recover and regroup before returning to BUCS Super Rugby action on Wednesday, November 13 with a visit to Cardiff University (6pm).