Posted 4th Dec 2019
Team Bath pay the penalty for mistakes and misses as Northumbria extend wait for BUCS Super Rugby home win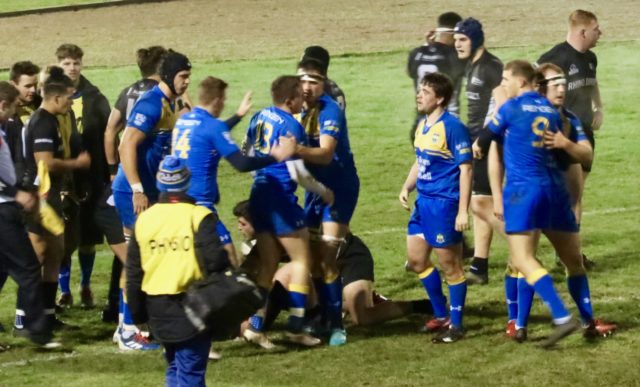 Mistakes once again proved costly for Team Bath men's 1st XV as a narrow 25-23 defeat to Northumbria extended their wait for a win at the University of Bath Sports Training Village this BUCS Super Rugby season.
The visitors had only won once this season but belied their lowly position in the table with an excellent performance and led for all but five minutes of the game.
Team Bath – sponsored by Fulkers Bailey Russell – struggled to build any sustained momentum on a frustrating evening but did have chances to win the game to no avail, including two missed penalties in the closing stages.
Head of Rugby Aaron James said: "It was a well deserved win for Northumbria, they played well and really wanted it, but once again we are very frustrated by our mistakes. It's hard to take positives when we didn't produce the performance we know we can.
"The pain of another loss at home will strengthen our resolve and we'll keep going. We know that we are the architects of our own demise at times and that is the frustrating thing.
"Mistakes in certain areas are costing us but we are going to keep working on those and get better – when we do, we know we have a game plan that works and that is what is driving us on."
Northumbria only arrived at the STV an hour before kick-off due to traffic delays but they were first to draw blood in the 11th minute, centre Jonny Ashman going over under the posts after a good spell of pressure to leave Oscar Yandall with a simple conversion.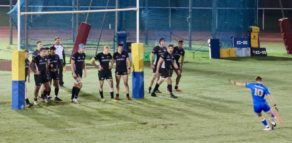 Team Bath responded with two George Worboys penalties in quick succession but Yandall replied with one at the other end before Ashman went over for his second try, the centre on hand to finish off after a fantastic break by flanker Alex Todd had sliced through the home defence.
The response was immediate as Team Bath forced a penalty from the restart and kicked it to the corner before unleashing their trademark lineout drive, which ended with Alex Nisbet burrowing over.
However, it was Northumbria who grabbed the final points of the half as they forced another penalty in front of the posts and Yandall's kick put them 18-11 up at the break.
Team Bath closed the gap seven minutes into the second half, replacement hooker George Holroyd scoring on his debut following a lineout drive, and then went ahead just before the hour mark after the best move of the night.
An incisive break from Paul Altier put them on the front foot and the ball was swiftly moved to the right where Harlequins Academy flanker Jack Kenningham barged through a couple of tackles before off-loading for co-captain Ed Rimmer to finish in style.
Worboys' conversion gave Team Bath a 23-18 lead but they conceded a penalty from the restart, allowing Northumbria to quickly regain the momentum. A kick to the corner led to exerted pressure on the home line and Callum Burke eventually forced his way through to level the scores before Yandall's conversion put the visitors ahead again.
A brilliant last-ditch tackle by Cal Barrett prevented Chidera Obonna putting Northumbria further ahead and that looked to be crucial when Team Bath forced two penalties in the closing stages. However, Worboys was narrowly off target with both as the visitors held on for the points.
Team Bath – who are also supported by Rengen Developments – complete their home run of fixtures next Wednesday (December 11) when they welcome old rivals Loughborough to the STV. Kick-off for what is always a well-contested contest is 6.30pm and admission is free.
Match stats
Team Bath starting XV: 15 Paul Altier, 14 Sam Kennaugh, 13 Alex Nisbet, 12 Max Ojomoh, 11 Elliot Bancroft, 10 George Worboys, 9 Ed Rimmer (cc); 1 Tom Rowland, 2 Rory Mead, 3 Simone Elrick, 4 James Fitzmaurice, 5 Edoardo Balocco, 6 John Smith, 7 Tom Williams, 8 Jordan Martin (cc). Replacements: 16 George Holroyd, 17 Arthur Cordwell, 18 Will French, 19 George Malone, 20 Jack Kenningham, 21 Jacob Tansey, 22 Tom Pittman, 23 Cal Barrett.
Tries: Nisbet, Holroyd, Rimmer.
Conversions: Worboys.
Penalties: Worboys 2.
Northumbria starting XV: 15 Marcus Kennedy, 14 Chidera Obonna, 13 Ned Newman, 12 Jonny Ashman, 11 Ollie Smith, 10 Oscar Yandall, 9 Harry Laidler; 1 John Warburton, 2 Joe Lashly, 3 Billy Nicholls, 4 Toby Hodges, 5 Callum Burke, 6 Dave Rufai, 7 Alex Todd, 8 Mike Hoyt. Replacements: 16 George Williams, 17 Jamie Ross, 18 Angus Campbell, 19 Ethan Murry, 20 Will Channing, 21 Tom Broadhead, 22 Robbie Forbes, 23 Lucas Titherington.
Tries: Ashman 2, Burke.
Conversions: Yandall 2.
Penalties: Yandall 2.
Referee: Ieuan Davies.
Assistant referees: Richard Waller, Steve Hambley.
Fourth official: Wayne Davis.
Attendance: 120.