Posted 12th Feb 2020
Team Bath put up a fight but Durham prove too strong as they underline BUCS Super Rugby title credentials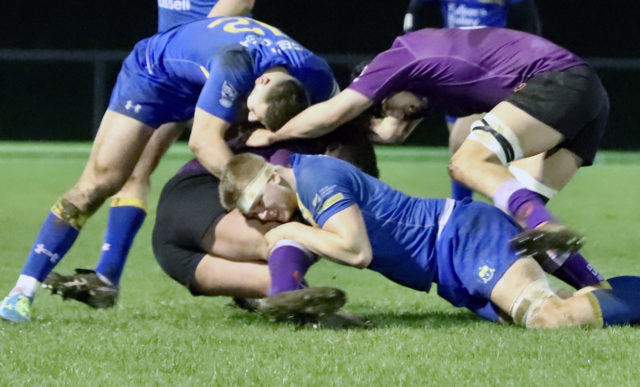 Durham demonstrated why they are BUCS Super Rugby league leaders as they produced a strong display to inflict defeat on Team Bath men's 1st XV in their first home match of 2020.
The Blue & Gold – sponsored by Fulkers Bailey Russell – matched up well to the visitors for long periods of the game but Durham's extra power in the pack eventually told as they secured a 38-0 victory at the Sports Training Village.
Aaron James, Head of Rugby at the University of Bath, said: "We're pleased with the way the guys fronted up but obviously disappointed with the result. Fair play to Durham, they have a very strong pack and they did the basics really well. We were outmuscled in the end.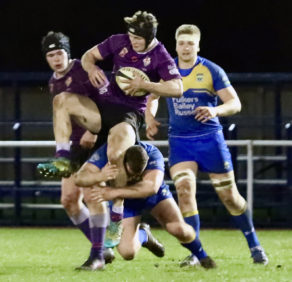 "We're disappointed to get nil at home and with some of the mistakes we made but we're not going to get down, we know we can keep working and fixing it. We'll go hard next week against Swansea and look to get a better result."
Table-topping Durham were quickly into their stride and opened the scoring within three minutes, forcing a penalty and kicking it to touch before unleashing an unstoppable lineout drive. Prop Scott Bowerman went over for the try and Nathan Wyman added the extras.
Durham applied more pressure and flanker Jamie Adamson looked set to add to their total when he powered across the line but Team Bath centre Alex Nisbet was able to knock the ball out of his hands before he touched down.
That epitomised some excellent defending from the hosts, who grew into the game and gave as good as they got during a well-contested first half.
They enjoyed some good periods of possession but a loose pass on the halfway line resulted in a knock-on and a Durham scrum. Again they forced a penalty and kicked to touch before utilising their lineout drive to good effect once more, with Bowerman again touching down.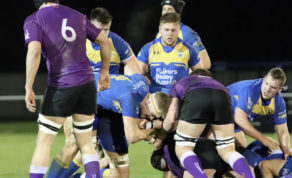 Wyman's conversion made it 14-0 and that was how it stayed at half-time thanks to some more outstanding home defence.
Durham again started the second half on the front foot with another prop, Toby Woods, quickly bagging their third try which was converted.
Team Bath refused to let their heads drop and continued to battle away but without reward, with winger Sam Kennaugh being bundled into touch just short of the line and Durham managing to clear their lines after a fantastic 30m break from Will Butt.
The visitors put the game firmly out of reach just after the hour mark with the try of the night, Bowerman jinking past four defenders as he cut in from the right before touching down underneath the posts to leave himself with a simple conversion.
Front-row replacements Monty Royston and Fred Davies both bundled over in the last five minutes to extend Durham's winning margin.
Team Bath, who are also supported by Rengen Developments, are back in action at the Sports Training Village next Wednesday (February 19) when they play host to Swansea for the first time in BUCS Super Rugby. Kick-off is 6.30pm and admission is free.
Match stats
Team Bath starting XV: 15 Paul Altier, 14 Cal Barrett, 13 Alex Nisbet, 12 Will Butt, 11 Sam Kennaugh, 10 George Worboys, 9 Ed Rimmer (c); 1 Arthur Cordwell, 2 Caley Gray, 3 Will French, 4 Oli Cattell, 5 Elliot Berryman, 6 Edoardo Balocco, 7 Chris Barry, 8 Ed Ashcroft. Replacements: 16 George Holroyd, 17 Tom Rowlands, 18 Harry Sturge, 19 James Fitzmaurice, 20 John Smith, 21 Ioan Lewis, 22 Tom Pittman, 23 Ethan Hutt.
Durham starting XV: 15 Charlie Spawforth, 14 Rory Stewart Cox, 13 Josh Wright, 12 Sol Hyde, 11 Jack Hedley, 10 Nathan Wyman, 9 Jacob Collin; 1 Scott Bowerman, 2 Luke Chadwick, 3 Toby Woods 4 Marjin Huis, 5 Henry Paremain, 6 Josh Basham, 7 Jamie Adamson, 8 Ben Fowles (c). Replacements: 16 Fred Davies, 17 Griffri Whitson, 18 Monty Royston, 19 Ben Osuntokun, 20 Fitz Harding, 21 Alex Skinner, 22 Will Edwards, 23 Matt Reaney.
Tries: Bowerman 2, Woods, Wyman, Royston, Davies.
Conversions: Wyman 4.
Referee: Alan Chandrachud.
Assistant referees: Steve Hambley, Fred Spong.
Fourth official: James Maby.
Attendance: 250.