Posted 6th Oct 2021
Big turnout for first BUCS Super Rugby home match of season as Team Bath slip to frustrating derby defeat against Hartpury
It was a frustrating first home game of the new BUCS Super Rugby season for the Team Bath men's 1st XV as they lost 32-8 to West Country rivals Hartpury in front of a big crowd at the University of Bath.
The Rengen-sponsored hosts went 13-0 down early on but fought back well and had plenty of ball and territory. However, they were only able to convert that into one try and a penalty, then were punished for mistakes in the second half as Hartpury left with a bonus-point victory.
Aaron James, Head of Rugby at the University of Bath, said: "It's great to have BUCS Super Rugby back at the Sports Training Village and great to have a big crowd behind us, it's just disappointing we couldn't put on a better display for them.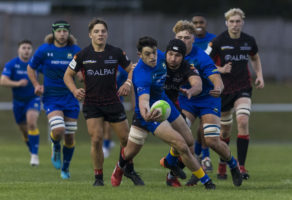 "We're frustrated with how we gave the ball away, either via penalties or mistakes. The intent was there, to defend and attack, but we've just got to get our quality a wee bit better.
"We'll pick ourselves up, go up to Northumbria next week and look to get it right there. We've got a good bunch of boys and I know we can do that."
There was a brilliant turnout for the first BUCS Super Rugby match at the STV since March 2020, with around 650 spectators taking advantage of a pleasant Autumnal evening to enjoy an entertaining derby encounter.
Team Bath forced a penalty inside two minutes, which George Worboys put narrowly wide from 40 yards, but it was the visitors who settled into their stride quickest and they were 13-0 up after 20 minutes thanks to two Joe Winfield penalties either side of a converted catch-and-drive try from prop Mitch Walsh.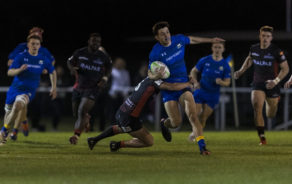 The hosts worked their way into the contest and thought they had pulled a try back, only for it to be ruled out for obstruction. However, they maintained the pressure on the Hartpury line and were duly rewarded when hooker Duncan Hood burrowed over for an unconverted try.
Team Bath were now on the front foot but, despite dominating possession and territory, they were unable to add to that try as Hartpury's defence stood firm to protect their 13-5 half-time advantage.
They extended that to 18-5 within a couple of minutes of the restart as full-back Brandon Wood broke down the right flank and managed to dot down in the corner before being bundled into touch. The conversion was missed.
Team Bath quickly responded with a Worboys penalty and immediately renewed their attacking intent, although they were almost caught on the counter when Hartpury winger Stan Norman intercepted a loose pass and charged from his own 22 to the other before being caught by Alfie Garside.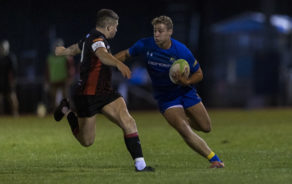 Hartpury did manage to cross the line again just before the hour, though, as an overload down the left ended with flanker Scott Davies touching down for a try converted by Winfield.
Team Bath suffered another self-inflicted blow in the 72nd minute as Hartpury winger Oliver Holliday pounced on a fumbled pass and raced from inside his own half to secure the visitors' fourth try and a bonus point, Winfield again converting to make the final score 32-8.
Team Bath make the long journey to Northumbria next week, with their next home match against Swansea at the Sports Training Village on Wednesday 27th October (6.30pm kick-off, free entry).
Match stats
Team Bath starting XV: 1 Archie Stanley, 2 Duncan Hood, 3 Zak Giannini, 4 Elliott Powell, 5 Ed Ashcroft (c), 6 Harry Breeze, 7 Tom Williams, 8 Mackenzie Graham, 9 George Wootten, 10 George Worboys, 11 Alfie Garside, 12 Rahul Patel, 13 Alex Clayton, 14 Sam Mercer, 15 Harry Lightfoot. Replacements: 16 John Taylor, 17 George Cave, 18 Archie Maggs, 19 Cam Keys, 20 Paddy Ashdown, 21 Tom Carr-Smith, 22 Iwan Price-Thomas, 23 Cal Barrett.
Tries: Hood.
Penalties: Worboys.
Hartpury starting XV: 1 Aristot Benz-Salomon, 2 Will Goffey, 3 Mitch Walsh, 4 Danny Eite, 5 Andrew James, 6 Tom Brooker (c), 7 Scott Davies, 8 Cameron Cobbett, 9 Oscar Lennon, 10 Joe Winfield, 11 Oliver Holliday, 12 Isaac Marsh, 13 Mathew McNab, 14 Stan Norman, 15 Brandon Wood. Replacements: 16 Brad Clements, 17 Charlie Brabham, 18 Cameron Holenstien, 19 Christian Roebert, 20 Jack Hewitt, 21 Hugo Flinn, 22 Jamie Howells, 23 Josh Harrison.
Tries: Walsh, Wood, Davies, Holliday.
Conversions: Winfield 3.
Penalties: Winfield 2.
Referee: Alan Chandrachud.
Assistant referees: Ben Simpson, Brian Ravenhill.