Posted 16th Mar 2023
Team Bath through to quarter-finals after defeat at home to Exeter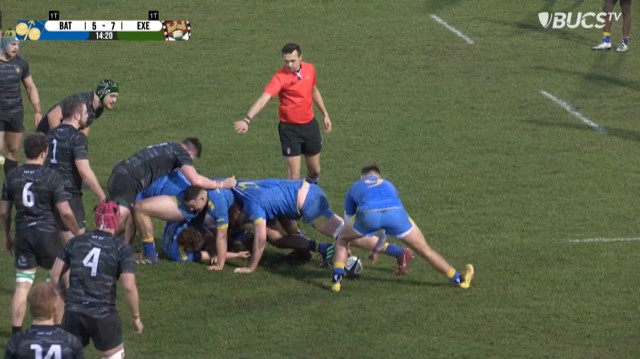 Team Bath had to settle for fourth spot in the BUCS Super Rugby table following a final day defeat to an impressive Exeter side.
The Bath Building Society-sponsored men's 1st XV knew a point would secure a top-four finish, but were looking to match their best finish of third from 2018/19.
However, a below par display in tough weather conditions at the Team Bath Sports Training Village meant they missed out on a bonus point while Exeter claimed one just before full-time, momentarily keeping their faint hopes of the title alive.
News soon filtered through that Loughborough had overcome Cardiff Met 26-20 to secure the Midlanders the top spot, while Aaron James, Team Bath's Head of Rugby, was left to contemplate a disappointing evening for his side.
"We tried to get a performance that we didn't get. We were beaten by a better side tonight. There were too many errors in a number of areas.
"Overall we aimed to finish in the top four to get us a home draw. That means a lot to us. There's a maximum of three games left and we want to be in all three.
"This is where we need to work harder than we ever have."
It started promisingly for the hosts whose first try looked straight from the training ground. A brilliant combination between Ludo Kolade, Luca Mignot and Alfie Garside saw the latter dive home for a lead inside five minutes.
The swirling wind denied Garside a difficult conversion and as time wore on Exeter adjusted to the torrential rain conditions well.
Excellent hands in the driving rain from Archie Hill and Max Bliss following a scrum set Kofi Barton-Byfield free and the number 11 scampered home to touch down within the posts. Josh Barton made no mistake from the tee to put the away side ahead.
Mignot was denied by a last gasp dive from Barton-Byfield as the evening began to unfold for Bath, who saw second row Harvey Cuckson sinbinned midway through the half.
Within two minutes Exeter extended their lead through Niall Armstrong with Barton making it two from two in conversions.
Team Bath struggled to gain momentum with the ball slipping through their hands and their mistakes were punished further on 32 minutes when Barton confidently converted a penalty 20 metres out.
Exeter's pace had proved a handful for Team Bath in the first half, but the second started positively for the hosts when Tom Carr-Smith's determination should have led to a second try, instead they had to settle for a penalty which Garside easily kicked home from in front of the posts.
Following this promising spell Team Bath were largely penned back as Exeter sought to take advantage, eventually doing so when Armstrong fed in Milo Hallam two metres from the line, and he powered in a third try for the visitors – their 500th in BUCS Super Rugby. Another inch-perfect kick from Barton pushed the Devon-side 16 points clear.
The travelling faithful were revelling in every Team Bath mistake as the home team took several risks in their own 22, trying to pass their way out of trouble.
With Exeter knowing a bonus try could still clinch the title, they pushed forward and were eventually rewarded in the final minute.
Archie Hill charged down an attempted crossfield and darted the final 22 before throwing himself down for an easy try with Barton again duly converting afterwards to complete the scoring, with the final result Team Bath 8, Exeter University 31.
The result means fourth-placed Team Bath will face Hartpury at home in the quarter-finals on 29th March at the Team Bath Sports Training Village.
Match stats
Team Bath starting XV: 1 Scott Kirk, 2 Jasper Spander, 3 Archie Griffin, 4 Tom Berry, 5 Harvey Cuckson, 6 Odu Odunlami, 7 Ethan Staddon, 8 Tom Williams (c); 9 Tom Carr-Smith, 10 James Beverley, 11 Alfie Garside (c), 12 Ludo Kolade, 13 Austin Emens, 14 Sam Mercer, 15 Luca Mignot. Replacements: 16 George Stuttard, 17 Ollie Tack, 18 Archie McNicol, 19 Will Jeanes, 20 Haydn Barnes, 21 Archie Friend, 22 Alex Clayton, 23 Sam Kennaugh.
Tries: Garside
Penalties: Garside
Exeter starting XV: 1 Jared Williams, 2 Ollie Burrows, 3 Archie Owlett, 4 Josh Cunningham, 5 Milo Hallam, 6 Luke Bralsford, 7 Lucas Dorrell, 8 William De Boehmler; 9 Niall Armstrong, 10 Josh Barton, 11 Kofi Barton-Byfield, 12 Max Courtis, 13 Archie Hill, 14 Ben Hammersley, 15 Max Bliss. Replacements: 16 Harvey Dunn, 17 Chris Freeman, 18 Todd Muil, 19 Tirion Bowen, 20 Seb Driscoll, 21 Orson James, 22 Sam Walker, 23 Benjy Joseland.
Tries: Barton-Byfield, Armstrong, Hallam, Hill
Conversions: Barton 3
Penalties: Barton
Referee: Alan Chandrachud
Assistant referees: Iain Kiy, Brian Ravenhill