Posted 19th Sep 2023
Blog: Bath Building Society talk helps student rugby players focus on their financial fitness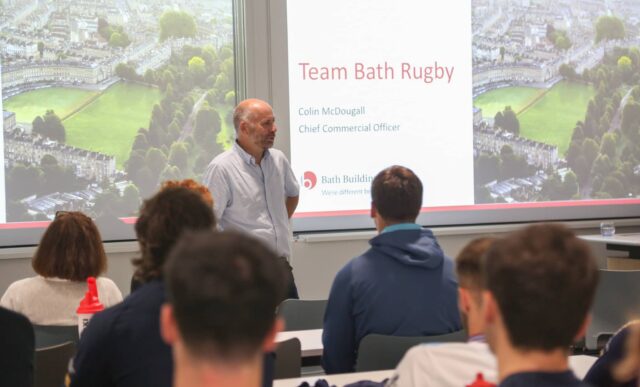 We were delighted to welcome Team Bath sponsor, Bath Building Society, to the University of Bath to give some financial know how and tips to our University of Bath rugby team.
Chief Commercial Officer, Colin McDougall, first highlighted the main differentiator between Bath Building Society and banks – namely that Bath Building Society is a mutual organisation which operates solely for the benefit of its borrowers and savers, and not for external shareholders; the Members are at the heart of the business, and any profit made is made solely for the Members.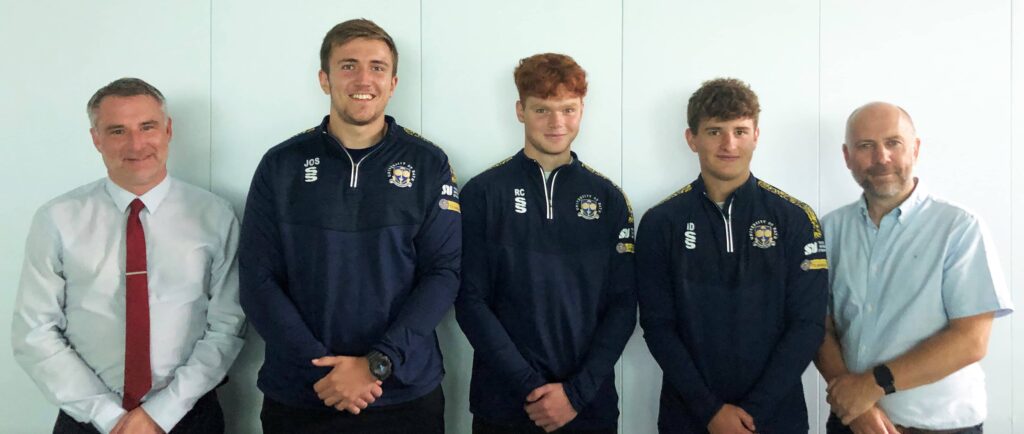 Colin stressed the importance of giving back and supporting the Bath community; Bath Building Society is 119 years old, and for their 120th birthday, they will be planting 1,200 trees around Bath. They also support more than 2,300 students in Bath state schools who benefit from their Financial Education programme, which is run in partnership with WizeUp, and helps to educate sixth formers about financial decisions and borrowing. In addition, every year they offer an Apprenticeship Scheme which allows a young person to kick-start their career. Each year, Bath Building Society gives 20k in donations, sponsorships and their Charity Awards and a Community Volunteering programme is also available to its employees. Bath Building Society is all about Bath, indeed, in order to open some accounts, an individual must be living, studying or working in Bath.
Colin outlined some bespoke financial products for the students – the first being their Buy for University Mortgage (which is only offered by two other lenders in the UK). With this product the student is the borrower, however parent/s become joint borrowers on the mortgage. It is a way of getting onto the property ladder, and also offers the choice to rent out other rooms, effectively becoming a landlord. Colin also highlighted the 'Rent a Room Mortgage', also known as a lodger mortgage, which is available after finishing University and having found work, before going on to talk about student savings, and the importance of putting money aside while at University, if you are able to do so. 
Financial wellbeing was very much the message of the presentation, which provided a great insight to the students as to how they might be able to secure a mortgage, and start to save, even if just a little each month.
The students were very engaged and asked a number of pertinent questions in the closing Q&A. Final-year student, Ed Shepherdson, who is studying a BSc (Hons) in Politics with Economics alongside playing in the Performance Rugby Squad, was very impressed by the talk: "As a student, especially in your final year, I think we all tend to be fixated on our career path and where we are going to be working, rather than considering the different financial options which are available to us as students. This has definitely made me more financially aware; I had no idea about all of the options open to us. I think it's really valuable for young students to be exposed to these financial opportunities."
Our thanks go to Colin and the team at Bath Building Society, our Team Bath sponsor, for speaking to our Rugby players and providing them with some great financial tips and much food for thought.