Posted 28th Sep 2023
Hard-fought defeat for Bath men's 1st XV in BUCS Super Rugby season opener at Durham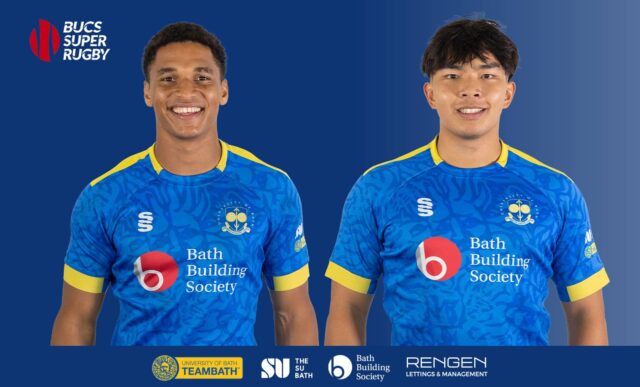 The University of Bath men's 1st XV started their 2023-24 BUCS Super Rugby season with a narrow 16-12 defeat at Durham.
The visitors, sponsored by Bath Building Society, outscored their opponents by two tries to one but couldn't quite force what would have been a decisive third touchdown in the closing stages.
Captain Ludo Kolade scored the opening try, sandwiched between two Durham penalties, and Bath were on the attack again when an error led to a breakaway try and conversion which gave the hosts a 13-5 lead at half-time.
Bath applied plenty of pressure at the start of the second period but were held up on the line and went further behind when Durham slotted over another penalty.
The visitors kept pushing and closed the gap when replacement hooker Yujian Zou went over for a try converted by Raff Weston but they had to settle for a losing bonus point.
Bath, who are also supported by Rengen, are back on the road on Wednesday 4th October when they visit defending champions and old rivals Loughborough (7pm kick-off).
The first 'home' game of the season sees Bath take on Varsity rivals Cardiff Met at The Rec in the 2023 Anniversary Game, sponsored by Colour Studios and Dragon Signs. It is taking place on Wednesday 18th October (6.30pm) and free tickets are available now – click here to register.
University of Bath starting XV: 1 Archie Stanley, 2 Max Pearce, 3 Scott Kirk, 4 Will Jeanes, 5 Tom Berry (cc), 6 Jack Bennett, 7 Lachlan McGrigor, 8 Ted Johnson; 9 Elis Horgan, 10 Iwan Price-Thomas, 11 Oli Sedgwick, 12 Will Roue, 13 Ludo Kolade (cc), 14 Sam Mercer, 15 Austin Emens. Replacements: 16 Yujian Zou, 17 Claudius Wheeler, 18 Henry Mountford, 19 Erik Bryant, 20 Iwan Coyle, 21 Evan Jones, 22 Angus Judkins, 23 Raff Weston.