Posted 15th Nov 2023
VIDEO: Brilliant Bath run in super seven tries and nullify Nottingham during BUCS Super Rugby happy homecoming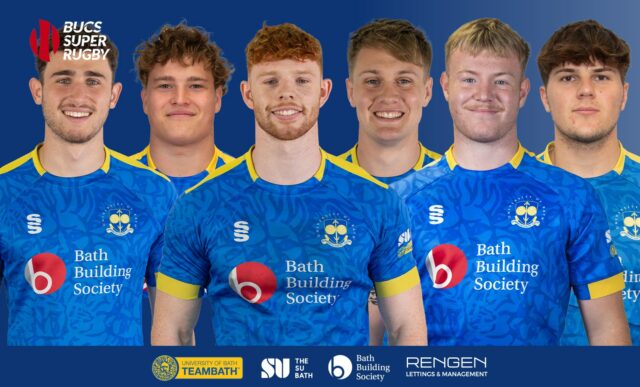 It was an excellent BUCS Super Rugby homecoming for the University of Bath men's 1st XV as they beat Nottingham 43-0 to extend their winning run to four matches.
Wednesday's fixture was the first to be played at the Team Bath Sports Training Village this season and saw the Bath Building Society-sponsored hosts run in seven tries while keeping their opponents out at the other end to underline a dominant performance.
A touchdown in the opening minutes from winger Oli Sedgwick provided a flying start for Bath, who went on to secure the four-try bonus point by half-time thanks to further scores from hooker Jasper Spandler (2) and full-back Austin Emens. Raff Weston added two conversions as the hosts went into the break with a 24-0 lead.
There was no let-up in the second half as Iwan Price-Thomas and replacements Max Pearce and James Short all touched down. Price-Thomas also kicked a conversion for in-form Bath, who have now scored 19 tries in their past three matches.
Bath, who are also supported by Team Bath sponsors Rengen, are now up to fourth in the table and will face a good test of their improved form on Wednesday 22nd November when they head down the M5 to table-topping Exeter who boast a 100 per cent record this season.
They then return to the Sports Training Village for three successive home matches against Cardiff on 29th November, Durham on 6th December and Loughborough on 13th December. All kick-off at 6.30pm and entry is free.
Match stats
University of Bath starting XV: 1 Scott Kirk, 2 Jasper Spandler, 3 Billy Sela, 4 Will Jeanes, 5 Josh Dingley, 6 Mackenzie Graham, 7 Iwan Coyle, 8 Ted Johnson; 9 Ieuan Davies, 10 Raff Weston, 11 Oli Sedgwick, 12 Ludo Kolade (c), 13 Louis Hennessey, 14 Iwan Price-Thomas, 15 Austin Emens. Replacements: 16 Max Pearce, 17 Archie Stanley, 18 Zak Giannini, 19 Eddie Erskine, 20 Jack Bennett, 21 Tom Cowan, 22 Elis Horgan, 23 James Short.
Tries: Sedgwick, Spandler (2), Emens, Price-Thomas, Pearce, Short.
Conversions: Weston 2, Price-Thomas.
Nottingham starting XV: 1 Alan Lewis, 2 Oliver Gilbert, 3 Fred Ma'a, 4 Robert Carmichael, 5 Will Ramply, 6 Sammy Lee, 7 Elijah Hiscock-Smith, 8 Connor O'Byrne. 9 Maximilian Blinkhorn, 10 Jamie Annand, 11 Will Callan, 12 Freddie Vaughan (c), 13 Cormac Calnan, 14 Connor Moyse, 15 Jamie Whitwell. Replacements: 16 Lewis Pickford, 17 James Bendon, 18 Jed Allen, 19 Ben Elsey, 20 Rory Flack, 21 Will Bailey, 22 Alex Garrett, 23 Joe Payne.