Posted 10th Oct 2018
Tense but deserved win gets Team Bath off the mark ahead of big BUCS Super Rugby Anniversary Game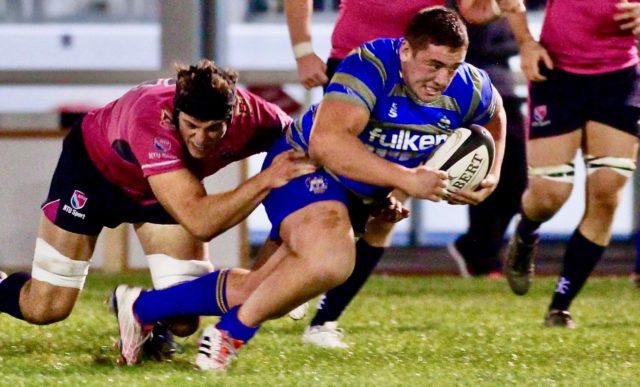 Team Bath men's 1st XV will go into next week's big Anniversary Game at The Rec on the back of their first BUCS Super Rugby win of the season after edging a high-scoring encounter against Nottingham Trent tonight.
Captain Tom Doughty scored a hat-trick of tries in the first half which, along with an Ed Rimmer touchdown, gave the Blue & Gold – proudly wearing the logo of new sponsors Fulkers and also supported by MJ Church – a narrow 20-17 advantage at the break.
Angus Hinton and Will Butt also crossed the line in the second half, both tries converted by Hugo Stiles, and a penalty try put the hosts 41-29 ahead with just ten minutes remaining.
However, Nottingham Trent kept battling away and closed the gap through a converted try – their fifth of an entertaining game – before forcing a lineout on the Bath line in the dying seconds. The home side were able to clear the danger, though, as they held on for a welcome 41-36 victory.
"We're buzzing to get the first win under our belt," said Doughty. "It was a bit too close at the end and that's something we'll go back and look at but the main focus this week was to improve our attacking structure and we did just that, so I'm proud of the boys."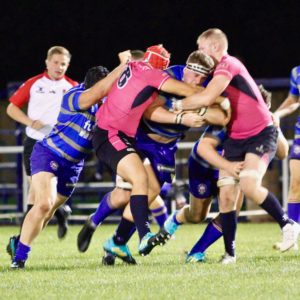 Head of Rugby Aaron James added: "After our opening two losses, we needed to get the monkey off our back and we did that tonight. There was some outstanding rugby at times but we just have to watch our discipline as it made the game much closer than it should have been."
Team Bath got off to the perfect start as, from the kick-off, they forced a lineout on the Nottingham line and Doughty went over from the subsequent catch-and-drive.
The visitors responded with a Matt Riddington penalty before Team Bath extended their lead with a fine try, the hosts patiently switching the play from left to right and back again before Rimmer ran onto an inside pass from winger Finn Murphy and touched down.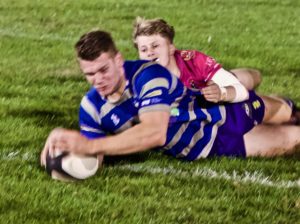 It had been all Bath until this point but a brilliant run from inside his own half from fly-half Edward Morgan put Nottingham on the front foot and number 8 Scott Hall was able to cross for the visitors' first try, converted by Riddington to level the scores.
Nottingham then went ahead when Bath tried to run the ball out of their own 22 but were forced into conceding a penalty. It was kicked to touch and while the hosts defended the first attack, they couldn't prevent Riddington scoring in the corner from the second. He also added the conversion before being carried off with an injury.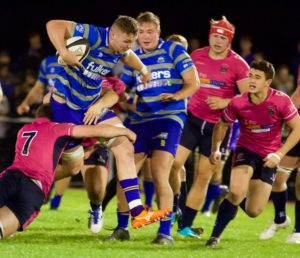 Team Bath responded by deploying their trademark lineout drive, with Doughty again touching down, before forging ahead at half-time when the captain was on hand to complete his hat-trick after Murphy had been held up on the line.
As they had in the first half, Team Bath again got on the scoresheet within two minutes of the restart as flanker Hinton raced through and Stiles added the extras.
The Nottingham line was coming under intense pressure and it told again when centre Butt surged across for a try on his Team Bath debut, leaving Stiles with a simple conversion.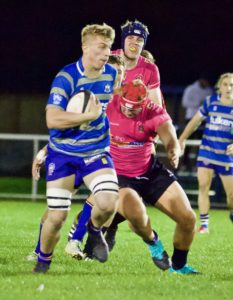 The hosts now held a 17-point lead but found that reduced to five when giant prop Cecil MacCarthy went over twice in quick succession from set-pieces, with Morgan converting the first try.
Back came Bath and when they forced Nottingham to concede a penalty try while defending a scrum on their line, the game looked to be over.
The visitors refused to admit defeat, though, and a Harry Graham try, converted by Morgan, set up a tense last five minutes which Bath just managed to see out.
All attention now turns to one of the most eagerly awaited nights of the University of Bath student sport calendar – the annual Anniversary Game at The Rec, Bath Rugby's famous city-centre home.
Leeds Beckett will provide the opposition for this year's match, which is sponsored by Iesis Group and is expected to once again attract thousands of spectators.
It is taking place on Wednesday, October 17 at 6.30pm and admission is free by ticket – they can be downloaded by clicking here.
Match stats
Team Bath starting XV: 15 Will Partington, 14 Finn Murphy, 13 Alex Nisbett, 12 Will Butt, 11 Hugo Stiles, 10 Alex Burrage, 9 Ed Rimmer; 1 Arthur Cordwell, 2 Tom Doughty (c), 3 Kieran Verdon, 4 Angus Hinton, 5 Adam Thresher, 6 Jack Davies, 7 Chris Barry, 8 James Catlin. Replacements: 16 James Hadfield, 17 George Cave, 18 Austin Hay, 19 Jack Kenningham, 20 Josh Lilly, 21 George Wootten, 22 Will Hughes, 23 Miles Gilbert.
Tries: Doughty 3, Rimmer, Hinton, Butt, penalty.
Conversions: Stiles 2.
Nottingham Trent starting XV: 15 Max Craven, 14 Paul Gimeno, 13 Alex Goble, 12 Matt Riddington, 11 Harry Graham, 10 Edward Morgan, 9 Alex Crocker, 1 Ben Smith, 2 JJ Broberg, 3 Cecil MacCarthy, 4 Ben Davis-Moore, 5 Joe Green, 6 Jacob Turner, 7 Jacob Wrafter, 8 Scott Hall. Replacements: 16 Tommie Collingwood, 17 Charlie Perkins, 18 Henry Trimmer, 19 Jack Liebster, 20 Harrison Savage, 21 Jamie Murray, 22 Tom Wootton, 23 Caetano Branco.
Tries: Hall, Riddington, MacCarthy 2, Graham.
Conversions: Riddington 2, Morgan 2.
Penalties: Riddington.
Referee: Harry Waulbaum.
Assistant referees: Joe Pointon, Richard Waller.
Fourth official: Brad Bignell.
Attendance: 250.