Posted 6th Dec 2018
Another landmark win on the road as terrific Team Bath defeat Loughborough in BUCS Super Rugby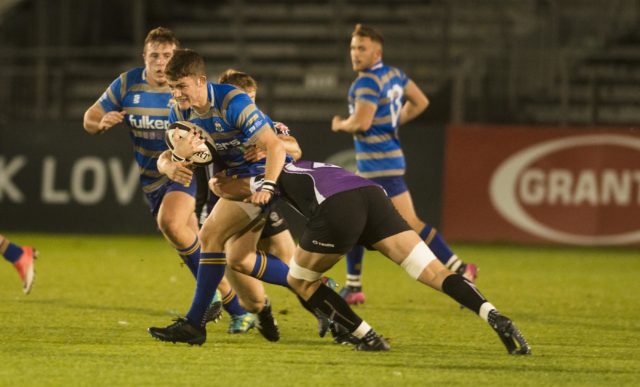 A dominant Team Bath men's 1st XV claimed another eye-catching result in BUCS Super Rugby on Wednesday, this time at Loughborough where they won the first time in six years.
The Blue & Gold, sponsored by Fulkers and MJ Church, followed up the previous week's first-ever victory at Hartpury but putting in a superb performance to claim an emphatic 30-10 success against a Loughborough side previously unbeaten at home.
The visitors were awarded two early penalties which were both converted by Bath Rugby Academy player Will Partington before hooker James Hadfield touched down off the back of a dominant drive and maul to score the first try of the game.
Partington's conversion put Team Bath 13-0 at half-time and while Loughborough claimed the first points of the second period through a successful penalty kick, it was the visitors who continued to dominate territory and possession.
Just before the 60-minute mark, captain Alex Burrage (pictured) fed Sam Ngeng who crashed through the Loughborough defence and set up the opportunity for fellow Bath Academy player Jack Davies to increase the lead with a converted try.
Partington added a penalty with ten minutes remaining before victory was sealed by a moment of magic from Burrage, who got on the end of his own grubber kick to notch Team Bath's third try of the evening.
Once again Partington successfully converted to continue his 100 per cent kicking record for the evening.
Loughborough's brave efforts were rewarded with a try from the final play of the match but it was not enough to dampen an excellent display of rugby from the men in Blue & Gold.
Head of Rugby Aaron James said: "There were a lot of positives to take from this performance but in particular I thought our defence was outstanding and we also took our chances when we needed to.
"It was good to carry on the momentum from last week's away victory over Hartpury, who we play again next week in what we expect to be another tough contest."
Captain Burrage added: "Although it was a bit disappointing not to get the bonus point, I think we controlled the game really well – overall it was a great team performance.
"It's not an easy place to go and pick up four points so that goes to show how hard the squad are working at the minute"
Team Bath host league leaders Hartpury at the Sports Training Village next Wednesday (12 December) as they aim to complete the league double on their West Country rivals. Kick-off for that match – the last at home before Christmas – is 6.30pm and admission is free.
Match stats
Team Bath starting XV: 15 Will Partington, 14 Finn Murphy, 13 Will Hughes, 12 Alex Nisbett, 11 Hugo Stiles, 10 Alex Burrage (c), 9 Ed Rimmer; 1 George Cave, 2 James Hadfield, 3 Kieran Verden, 4 Kas Eelman, 5 Jack Davies, 6 Jack Kenningham, 7 Chris Barry, 8 Miles Reid. Replacements: 16 Sam Ngeng, 17 Austin Hay, 18 Simone Ngeng, 19 Jordan Martin, 20 James Catlin, 21 George Wootten, 22 Miles Gilbert, 23 Will Stride.
Tries: Hadfield, Davies, Burrage
Conversions: Partington 3
Penalties: Partington 3
Loughborough starting XV: 15 James Spencer, 14 Sam Roberts, 13 Fergus Guiry, 12 Brad Pinkham, 11 Austin Beckett, 10 Alexander Cruz, 9 Callum Watson; 1 Jarod Leat, 2 Harrison King, 3 Osman Dimen, 4 Archie Macpherson, 5 Adrian Van Der Ploeg, 6 Max Hill, 7 Austin Wallis, 8 Ollie Kilgallon. Replacements: 16 Jamie Harding, 17 Sam Garvey, 18 Dan Cuthburt, 19 Sam Bailey, 20 Will Findlay, 21 Josh Lewis, 22 Tom Walsh.
Tries: Unknown
Conversions: Lewis
Penalties: Lewis