Posted 18th Jan 2019
England Women and coach Andy Robinson provide major learning opportunities for University of Bath's rugby players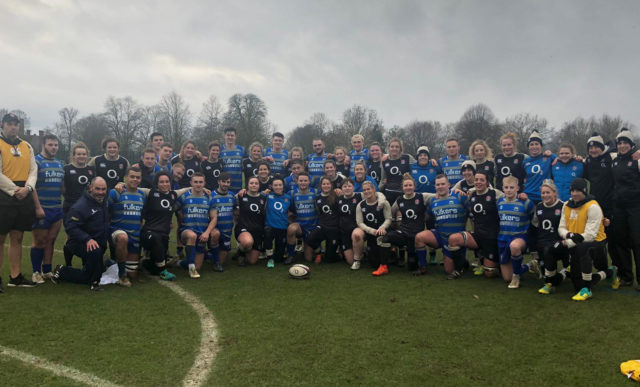 Members of the University of Bath men's rugby squad have had chance to share the pitch with current England players and learn from a decorated international and Premiership coach this week.
The Blue & Gold were invited to Bisham Abbey to take part in a semi-contact team training forwards and backs session with the England Women's squad as they prepare for the 2019 Six Nations, which starts with a visit to Ireland on Friday, February 1.
The Red Roses squad, which turned fully professional on January 1, includes Coach Education & Sports Development graduate Natasha Hunt and is captained by Sarah Hunter, who used to train at the University of Bath.
Prop Jake Buckingham, who studies Sports Performance, was part of the Team Bath training squad and said: "It was a real honour to train against a professional outfit as it is something we do not often get the chance to do.
"The intensity of the session was very high with both teams putting each other under a lot of pressure.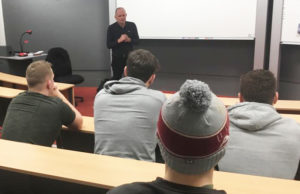 "Hopefully we can arrange something again in the future as I think it was a great learning experience for everyone involved and we wish England all the best in their Six Nations campaign."
The training session took place a day after rugby players on the University's Sports Performance course had received an inspirational talk from former Lions, England, Scotland and Bath Rugby coach Andy Robinson.
He shared his experiences of the people that had influenced him during his rugby career, how to back yourself towards being great and key aspects of 'team-ship'.
Aaron James, Head of Rugby at the University, said: "Andy's talk was an inspiration to the players in our Sports Performance group. His journey has built up a wealth of experience and his openness and willingness to share those experiences was motivating to both coaches and students."
The men's rugby team, who beat the RAF 29-27 in a well-contested friendly fixture last week, resume their BUCS Super Rugby campaign on Wednesday, January 30 when they visit Cardiff University.