Posted 25th Sep 2019
Four-try bonus point gives Team Bath some reward for battling performance at Exeter in BUCS Super Rugby opener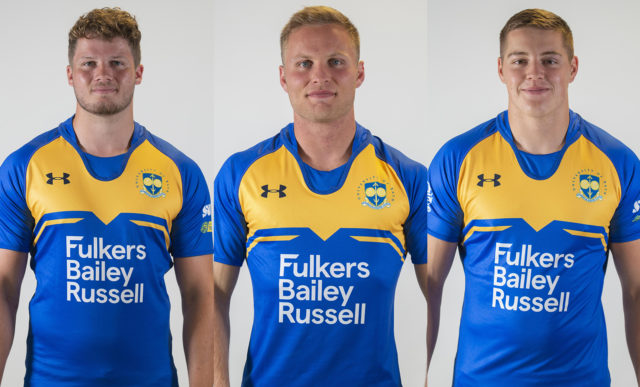 Team Bath men's 1st XV may have lost 44-26 to Exeter University in their opening BUCS Super Rugby match of the 2019-20 season but they had the consolation of picking up a deserved four-try bonus point in a high-scoring fixture.
The Blue & Gold, sponsored by Fulkers Bailey Russell, held a narrow 12-10 lead at the end of a closely-fought first period but Exeter – last season's table-toppers – were able to pull away in the second half as Will Yarnell scored a hat-trick of tries.
Team Bath secured the bonus point their performance deserved when Cal Barrett ran 70 yards in the closing minutes to notch their fourth try of the afternoon.
The Blue & Gold did not get off to the best of starts as, with less than two minutes on the clock, Yarnell sidestepped the last defender to dive over for Exeter's opening try and Harry Bazalgette added the conversion.
Team Bath responded well and, for the first but certainly not the last time this season, unleashed their lineout drive to great effect in the sixth minute before Barrett burrowed over from the maul.
Benn Morris's conversion attempt hit the post but opposite number Bazalgette was able to score from a penalty in front of the sticks moments later to stretch Exeter's lead to 10-5.
The visitors edged ahead for the first time midway through the first half when, following a patient build-up, Morris spun the ball wide for winger Liam McStay to run over. The successful conversion attempt gave Team Bath a 12-10 lead that they managed to hold until half-time thanks to some disciplined defending.
They found themselves trailing again three minutes into the second half, though, as several strong carries forced Team Bath back and Jordan Bond was able to power through for Exeter's second try which Bazalgette again converted.
As in the first half, Team Bath responded quickly and a pick and go from the scrum ended with No 8 Ed Ashcroft touching down. Morris again added the extras to edge his team back in front.
The momentum swung back Exeter's way in the 55th minute when Team Bath stopped an attack inches short of the line but Yarnell, following up, spotted a gap and went over for his second try of the game, again converted by Bazalgette.
Exeter were able to put some daylight between themselves and Team Bath just before the hour mark when Harry Tarling raced through for their bonus-point try, Bazalgette's conversion stretching their advantage to 31-19.
The victory was secured with 13 minutes to go as Yarnell went over for his hat-trick and Bazalgette added the extras before kicking a penalty moments later.
Team Bath continued to battle away and picked up a bonus point in fine style when they turned the ball over before Barrett ran from his own 22 to notch his second try of the game.
However, it was Exeter who had the final say when Bazalgette slotted over his third penalty of the afternoon to complete a 44-26 victory.
Team Bath are back on the road next Friday (October 4) as they visit Rosslyn Park RFC in London to face Durham. Alumni are invited to enjoy a reunion at the match while backing the Blue & Gold and tickets are available now – click here for further details.
Free tickets are also available for the eagerly-awaited Anniversary Game at The Rec, home of Bath Rugby, on Wednesday, October 16 (6.30pm). Cardiff University are providing the opposition for the match, sponsored by Rengen Developments – register for tickets here.
Match stats
Exeter starting XV: 15 Mehson, 14 Relton, 13 Tarling, 12 Elderkin, 11 Bond, 10 Bazalgette, 9 Yarnell; 1 Cutbill, 2 Fowke, 3 Johnson, 4 Yates, 5 Jaiani, 6 Schoter, 7 Fethney, 8 Addison.
Replacements: 16 Bury, 17 Strange, 18 Richardson, 19 Slade, 20 Bullard, 21 Di-Chio, 22 Scardamaglia, 23 Davies.
Tries: Yarnell 3, Bond, Tarling.
Conversions: Bazalgette 5.
Penalty: Bazalgette 3.
Team Bath starting XV: 15 Paul Altier, 14 Liam McStay, 13 Alex Nisbet, 12 Miles Gilbert, 11 Cal Barrett, 10 Benn Morris, 9 Ed Rimmer (cc); 1 Tom Rowlands, 2 Jordi Den Hartog, 3 Will French, 4 Jordan Martin (cc), 5 Edoardo Balocco, 6 Cameron Keys, 7 Chris Barry, 8 Ed Ashcroft.
Replacements: 16 Tom Wishart, 17 Alex Curtis, 18 Rory Mead, 19 Jack Kenningham, 20 John Smith, 21 Jacob Tansey, 22 Tom Pitman, 23 Luca Mignot.
Tries: Barrett 2, McStay, Ashcroft.
Conversions: Morris 3.