Posted 5th Oct 2019
Team Bath defeated by Durham but BUCS Super Rugby co-captains take positives from improved display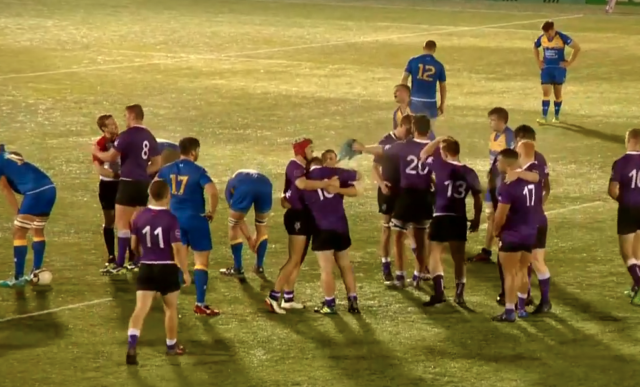 Co-captains Jordan Martin and Ed Rimmer say there were plenty of positives to take from Friday's 25-18 defeat for Team Bath against Durham in BUCS Super Rugby.
The Blue & Gold – sponsored by Fulkers Bailey Russell – applied plenty of pressure in the closing stages at Rosslyn Park in London but weren't quite able to force the try which would have given them a chance to come away with a draw.
Martin said: "The result did not go our way but I cannot fault the boys for effort or intent. We just need to start looking after the ball more when we have possession, we are trading momentum too much at the moment."
Rimmer added: "It was definitely a step up from the performance we produced against Exeter in our opening match and we showed great character. Now the focus is on putting it through more phases and staying on the front foot."
Team Bath conceded an early penalty, which was kicked by Wyman, but responded superbly in the 13th minute as Rimmer's blistering break from a scrum on the halfway line split the Durham defence and winger Luca Mignot was in support to race over the line for an unconverted try.
Durham regained the momentum with two tries of their own, the second of which was converted to put them 15-5 up, but the gap was closed to five points when – with the home team down to 13 men after two yellow cards – Team Bath were able to drive over from a lineout, Chris Barry touching down.
That was during injury-time in the first half but there was still time for the match to restart and the visitors conceded a penalty, which Wyman slotted over to give Durham an 18-10 advantage at the break.
The score remained like that until the 69th minute when, after a sustained period of pressure, Team Bath won a penalty in front of the posts which Benn Morris put over.
However, Durham were able to regain a two-score cushion when they forced their way over from a scrum and the successful conversion made it 25-13 with seven minutes to play.
Team Bath refused to accept defeat and grabbed their third try of the evening when the ball was spread from one side of the pitch to the other before centre Sam Kennaugh spotted a gap and dived over.
The difficult conversion was missed, though, and Durham were able to see out some late pressure during eight minutes of additional time to secure the victory.
Team Bath will be looking to get their first win on the board when they visit BUCS Super Rugby newcomers Swansea on Wednesday (October 9).
Their first home match of the campaign takes place at The Rec the following week – the eagerly-awaited Anniversary Game against Cardiff University at the home of Bath Rugby. Free tickets are available now – click here to register or find out more information.