Posted 23rd Nov 2022
VIDEO: Jasper Spandler hat-trick tees Team Bath up for bonus-point victory over Swansea to extend BUCS Super Rugby winning run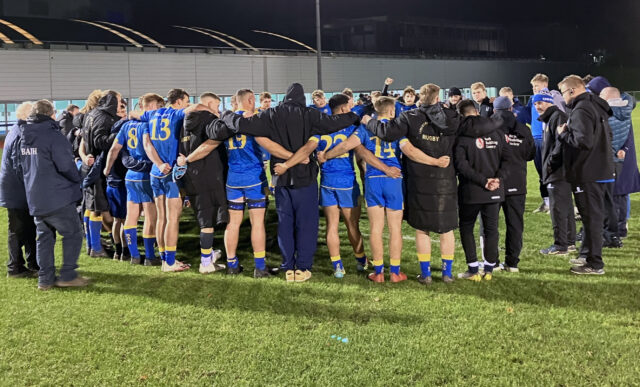 A first-half hat-trick from England U20 hooker Jasper Spandler set Team Bath on their way to a hard-earned 24-7 victory over Swansea as they extended their BUCS Super Rugby winning run to four games.
Replacement Haydn Barnes added a late try to secure a bonus point for the Bath Building Society-sponsored men's 1st XV on a cold, windy night at the Team Bath Sports Training Village.
All four tries came from lineouts and Mark Lilley, Forwards Coach for the University of Bath's Rugby Performance Squad, was delighted to see the hard work in training get its reward.
"The driving maul is something we pride ourselves on and spend a lot of time on, so it's very pleasing," he said.
"It was a proper tough game. There was quite a strong wind that we played into in the second half and credit to Swansea, they kept coming at us, but the boys really worked hard to pick up a good five-point win in the end.
"We take great confidence from the run we are on and there is a real energy right across the club. The way the boys are applying themselves has been excellent."
Kick-off was delayed for 15 minutes after Swansea were stuck in traffic on route to Bath but they were first on the scoresheet, prop Tom Furtado Mills forcing his way over after Team Bath had repelled a number of sorties on their line following a 5m lineout. Harri Williams added the conversion.
Team Bath, who had been denied a try in the third minute when Zac Rodber was stopped just inches from the line, were only behind for four minutes before Spandler got his first of the night from a lineout drive. Luca Mignot's excellent conversion in windy conditions levelled the scores.
Forwards coach Lilley played his part in Team Bath's second try, telling Spandler to use a pre-rehearsed short lineout routine. It worked a treat as Mackenzie Graham took the ball and burst through before passing back inside for Spandler to touch down.
Team Bath reverted to their regular driving maul for their third try of the half, Spandler again touching down as the hosts went into half-time with a 17-7 lead.
Swansea had the wind behind them in the second half and put Team Bath under plenty of pressure, the home team not helping their cause by conceding a succession of penalties.
They stood strong defensively, though, to prevent Swansea getting on the scoresheet before finally putting the result beyond doubt with three minutes to go. Again the try came from a driving maul, with replacement Barnes this time getting the touchdown to secure the bonus point.
Mignot's conversion completed the scoring for Team Bath, who now face testing back-to-back away trips to Exeter (30th November) and Cardiff (7th December). They then return to the Sports Training Village on Wednesday 14th December to face Leeds Beckett in their last match before Christmas (kick-off 6.30pm, free to watch).
Match stats
Team Bath starting XV: 1 Ollie Tack, 2 Jasper Spandler, 3 Archie McNicol, 4 Eddie Erskine, 5 Mackenzie Graham, 6 Tom Williams (c), 7 Tom Cowan, 8 George Doel; 9 Elis Horgan, 10 Zac Rodber, 11 Alfie Garside (c), 12 Sam Kennaugh, 13 Louie Hennessey, 14 Ethan Hawtin, 15 Luca Mignot. Replacements: 16 Duncan Hood, 17 Claudius Wheeler, 18 Joe Atkins, 19 Haydn Barnes, 20 Harry Breeze, 21 Archie Friend, 22 Ludo Kolade, 23 Alex Clayton.
Tries: Spandler 3, Barnes.
Conversions: Mignot 2.
Swansea starting XV: 1 Max Marshall, 2 Gavin Lloyd, 3 Tom Furtado Mills, 4 Ben Gregory (c), 5 Peter Vickers, 6 Iestyn Rees, 7 Will Barraclough, 8 Cai Davies; 9 Daf Land, 10 Harri Williams, 11 Gabe Lacey, 12 Brad Roderick, 13 Rory Case, 14 Llien Morgan, 15 Kian Abraham. Replacements: 16 Isaac Young, 17 Tom Zoogah, 18 Paula Fifita, 19 Joe Greaves, 20 David Francis, 21 Rhodri Lewis, 22 Iwan Johnes, 23 Callum Dodd.
Tries: Furtado-Mills.
Conversions: Williams.