Posted 27th Mar 2023
Team Bath all set for big home derby with Hartpury as BUCS Super Rugby National Championship knockout campaign begins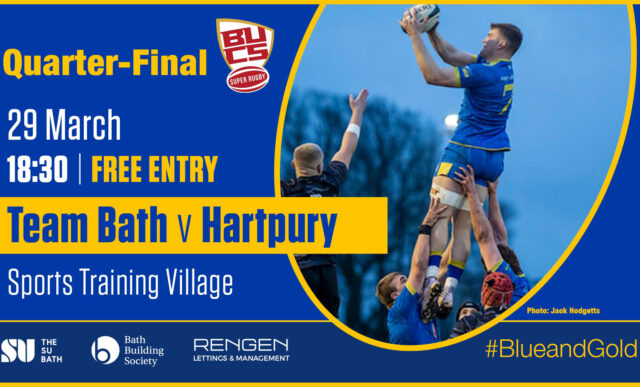 Team Bath's BUCS Super Rugby squad start their bid for National Championship glory at the Team Bath Sports Training Village on Wednesday (29th March) as they face local rivals Hartpury in the quarter-finals (6.30pm kick-off, free to watch).
It is only the second time Team Bath have been at home in the last eight of the national knockout competition, having achieved their first goal of a top-four finish in the league table.
Both the Bath Building Society-sponsored men's 1st XV and Hartpury finished on 56 points after 18 league games, with the points difference of +60 and +61 respectively showing how little there was to choose between the teams.
Team Bath had the edge in the two league encounters, though, achieving a rare league double against their West Country rivals thanks to a 27-19 victory at Hartpury in October and a 21-15 'home' success at Dings Crusaders RFC in January.
Aaron James, Head of Rugby at the University of Bath, said: "A home draw means a lot to us and this is where we need to work harder than we ever have. There's a maximum of three games left and we want to be in all three."
Admission is free to the quarter-final and spectators can get a great view of the action on the athletics infield by heading through the Sports Training Village to the Sports Café balcony.