Posted 5th Apr 2023
More semi-final heartbreak for Team Bath as BUCS Super Rugby champs Loughborough score late try to dash visitors' resistance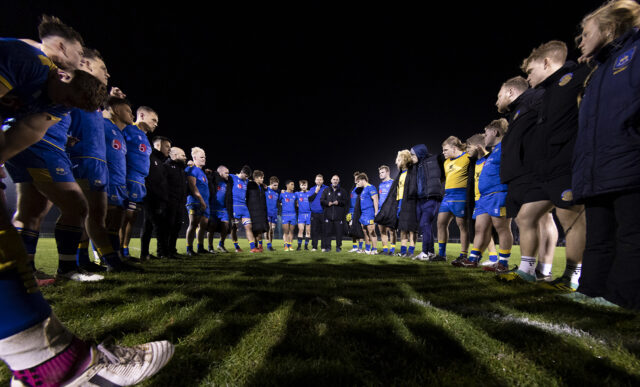 Team Bath's hopes of reaching the BUCS Rugby Championship final ended in heartbreak as double-chasing Loughborough scored four minutes from time to grab a narrow 30-27 win.
A superb semi-final saw the Bath Building Society-sponsored Team Bath men's 1st XV battle back brilliantly from 13-3 down to lead 27-20 early in the second half. Two yellow cards reduced the visitors to 13 men but they fought fiercely to hold BUCS Super Rugby champions Loughborough at bay and were about to be restored to full strength when the pressure finally told.
It is the fourth time that Team Bath have fallen at the semi-final hurdle during the BUCS Super Rugby era but they will take huge credit from pushing an impressive Loughborough side all the way after an excellent league campaign which saw them firmly in the title hunt for much of the season.
Aaron James, Head of Rugby at the University of Bath, said: "We're gutted and the players are emotional. We can't give away that many penalties and be down to 13 men in a semi-final but the character, the effort tonight – I am so proud of the guys.
"They are a great bunch. Everyone will mention how good we were this season and that will stick in their minds."
The first half was played in driving rain but didn't prevent the two sides putting on a cracking contest. Team Bath fly-half Luca Mignot notched the first points from a penalty but opposite number Charlie Titcombe responded with two successful kicks of his own to put Loughborough 6-3 up.
They were beginning to dominate at this stage and extended their lead when prop Bryn Davies burrowed over from a maul for the opening try, Titcombe adding the conversion.
Team Bath hit back in tenacious manner, though, as University of Bath sporting scholar Ethan Staddon charged down a clearance kick off the back of a Loughborough scrum and Mignot reacted quickest to kick the loose ball through the posts before touching down.
His conversion levelled the scores and gave Team Bath the momentum, which led to them regaining the lead when a surging break from Mackenzie Graham took them to the Loughborough line and hooker Max Pearce recycled brilliantly for prop Ollie Tack to dive over.
Mignot was on target again with his kick but Team Bath were unable to take the lead into half-time as, from the last move of the half, Teddy Leatherbarrow peeled off the back of a maul and was adjudged to have touched down after diving over the line at full stretch. Titcombe's penalty made it 20-20 at the break.
Team Bath showed their attacking intent at the start of the second half when they earned a kickable penalty inside three minutes but elected to go for touch. They were rewarded when, after Loughborough were penalised twice more, the pressure told as Staddon forced his way over for a try again converted by Mignot.
A long-range Titcombe penalty on the hour cut Team Bath's lead to 27-23 and the visitors found themselves up against it when two yellow cards reduced them to 13 men. However, they managed the period well and even had a chance to extend their lead after fine work by Mignot forced a knock-on but Alfie Garside's penalty from 40m drifted just wide.
With just a minute before Team Bath were restored to full strength, Loughborough finally broke their resistance when Number 8 Tobias Munday was able to burrow through the visiting defence to score what proved to be the decisive try.
Titcombe's conversion was successful and while Team Bath had ball in hand from the restart, a forward pass gave possession back to Loughborough and they were able to see the game out.
Click here to watch the match in full on BUCS TV.
Match stats
Loughborough starting XV: 1 Bryn Davies, 2 Joe Plunkett, 3 Jack Bertinet, 4 Alex Wardell, 5 Mario Pichardie, 6 Henri Lavin, 7 Teddy Leatherbarrow, 8 Tobias Munday; 9 Tom Miles, 10 Charlie Titcombe, 11 Charlie Cadogan, 12 Dan Martin, 13 Nathan Pope, 14 Will Sanders, 15 Reece Malone. Replacements: 16 Nathan Langdon, 17 Cal Smyth, 18 Sam Westmacott, 19 George Taylor, 20 Fergus Dick, 21 Ben Smith, 22 Charlie Bracken, 23 Harry Rowson.
Tries: Davies, Leatherbarrow, Munday.
Conversions: Titcombe 3.
Penalties: Titcombe 3.
Team Bath starting XV: 1 Ollie Tack, 2 Max Pearce, 3 Archie Griffin, 4 Josh Dingley, 5 Harvey Cuckson, 6 Tom Cowan, 7 Ethan Staddon, 8 Mackenzie Graham; 9 Tom Carr-Smith, 10 Luca Mignot, 11 Alfie Garside (c), 12 Ludo Kolade, 13 Louie Hennessey, 14 Sam Mercer, 15 Austin Emens. Replacements: 16 George Stuttard, 17 Scott Kirk, 18 Archie McNicol, 19 Tom Berry, 20 Tom Williams, 21 Murdoch Lock, 22 Sam Kennaugh, 23 James Beverley.
Tries: Mignot, Tack, Staddon.
Conversions: Mignot 3.
Penalties: Mignot 2.