Posted 14th Oct 2021
Magnificent seven first-half tries help Team Bath secure their first BUCS Super Rugby win of season in fine style at Northumbria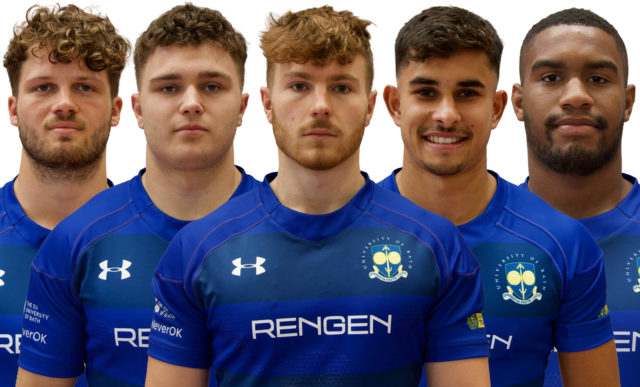 Seven tries during a dominant first half set Team Bath men's 1st XV on their way to an impressive first win of the 2021-22 BUCS Super Rugby season against Northumbria on Wednesday.
The Rengen-sponsored side built on the promising passages of play they had shown against both Leeds Beckett and Hartpury as they raced out of the blocks at Kingston Park.
A mix of turnover transition and set-piece tries saw the visitors build an imposing 41-7 half-time lead through Cal Barrett (2), Duncan Hood (2), Alfie Garside, Rahul Patel and Elliot Powell (pictured left to right), with Alex Clayton (2) and Garside adding conversions.
Northumbria stepped up their physicality and tempo in the second half which, coupled with too many Bath penalties, stopped the visitors' attacking and defensive flow but they had done more than enough to secure a 41-17 victory.
Aaron James, Head of Rugby, said: "We were pleased to get the win, with some very good individual efforts and team tries."
Team Bath make the long journey north again next week when they visit Durham (Wednesday 20th October, 6.30pm kick-off). Their next home match at the Team Bath Sports Training Village is against Swansea on Wednesday 27th October (6.30pm kick-off, free entry).
Team Bath starting XV: 1 George Cave (c), 2 Duncan Hood, 3 Zak Giannini, 4 Elliott Powell, 5 Josh Dingely, 6 Cam Keys, 7 Tom Williams, 8 Harry Breeze, 9 George Wootten, 10 Bevan Howells, 11 Alfie Garside, 12 Alex Clayton, 13 Rahul Patel, 14 Cal Barrett, 15 Iwan Price-Thomas. Replacements: 16 Caley Gray, 17 Archie Stanley, 18 Harry Sturge, 19 Erik Bryant, 20 Paddy Ashdown, 21 Sam Clough, 22 Luca Mignot, 23 Harry Lightfoot.